Contemporary home office design is all about simplicity and minimalism. Using clean lines, neutral hues, and uncluttered areas is essential for achieving a modern style. Minimalist home office designs are becoming increasingly popular because they generate a sense of calm and focus. Know more about contemporary home office design and how to apply it easily in your home office.
Contemporary home office design ideas
To accomplish a contemporary home office style, simplify your desk and retain only the necessary objects. Furthermore, combining functional and comfy furniture is critical to creating an aesthetically pleasing and functional atmosphere. By embracing these components, individuals can build a streamlined and effective workstation that encourages productivity and creativity.
Technology and lighting are also vital in modern home office design. Lighting is an essential component of every workspace since it affects mood, productivity, and overall well-being. Natural light is good since it encourages relaxation and helps reduce eye irritation.
If natural light is not accessible, it is critical to select lighting solutions that offer appropriate illumination while avoiding glare or eye strain. Furthermore, using cutting-edge technology is critical for being connected and productive. High-speed internet, ergonomic keyboards, and comfortable chairs that promote healthy posture are all examples. Individuals can design a workspace that is both functional and visually appealing by combining these features.
Elements to include in designing a contemporary home office
Contemporary home office designs are the ideal sort of home office because they do not have to be set up in different areas. You can easily fit a desk into any available area in any room.
Include these elements in your home office design:
A home desk or a table

Add plants 

Good lighting 

Comfortable chair 

Make space for your technology.

Make the space extra personalized by adding your favorite artwork.

Use your headsets.
Places in your home that can be converted into a contemporary house office
Installing a modern home office is as easy as it appears; pick the perfect spot and choose the ideal furniture to feel relaxed and productive.
Contemporary home office design color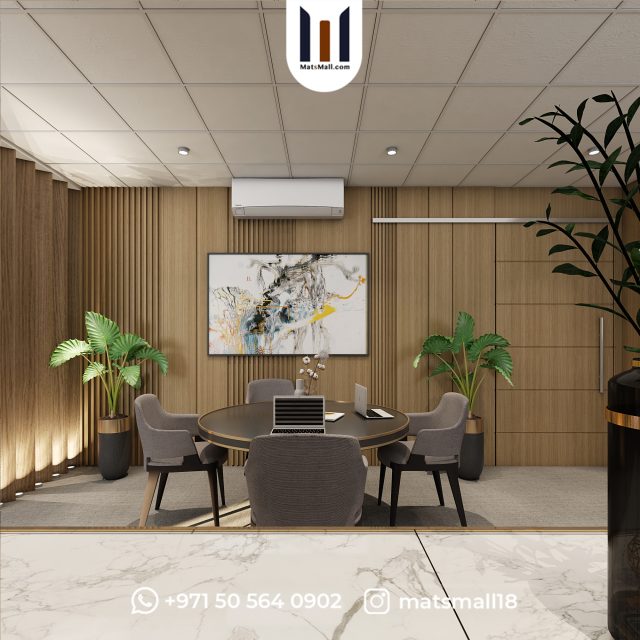 Stick to neutral hues when you design your contemporary home office, as simple colors radiate a relaxed and productive atmosphere that is perfect for working hours.
Gray 

White 

Beige 

Nude

Light green

Light blue 
How to choose the perfect contemporary home office design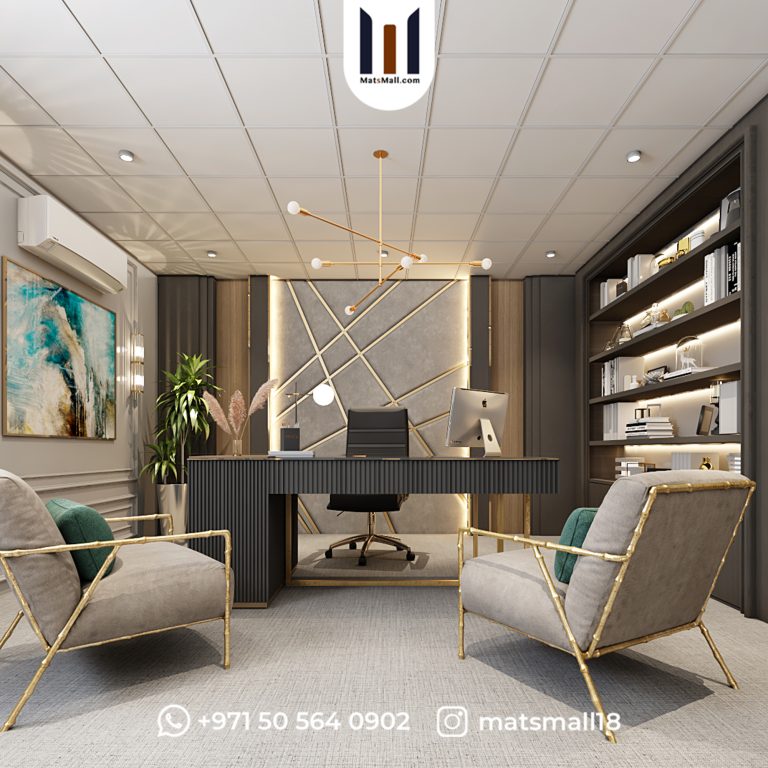 To achieve the ideal contemporary home office design, there are a few steps to ensure that the design fits you:
Research the ideal office design.

Create a mood board.

Identify your must-haves.

Start shopping for the home office or consult a professional.
Pro tip: if you have a big window, consider placing your desk facing it. To enjoy the sunlight and to feel outside.
Think storage 
Smart storage solutions are critical for increasing productivity and establishing a clutter-free workstation. Woven bins, vintage storage, and a combination of open and closed storage can help keep the workspace organized and neat. Clutter can also be kept away by using wall decor. Another technique to make the most of the available space is to maximize book storage and built-in storage. DIY storage solutions and desk organizers can also be utilized to customize and functionalize the workspace.
Office lighting 
Proper lighting can help reduce stress and anxiety levels, allowing people to work for longer periods of time without feeling overwhelmed or tired. Individuals can feel more motivated and inspired to work if a nice work atmosphere is created, which leads to improved innovation and creativity.
Warmer yellow or orange lights are often better for resting, whereas cooler blue and white lights are better for working, waking up, and concentrating. If possible, the warmth and hue of the illumination should change depending on the time of day. The light should be stronger and cooler in the morning to assist employees stay aware and focused. As the day progresses, the lighting should become warmer, assisting employees in winding down. 
Read More: Best Leading Interior Design Company in Dubai
Start your modern office space with MatsMall; contact us now to design your contemporary home office design. 
Send us a WhatsApp message at +971505640902
Frequently Asked Questions about contemporary home office design.