If you have a master bedroom in your house, you might think of ways to use the space for something helpful, like a closet.
A closet is an extra wardrobe or free-standing shelves that organize clothes and accessories. If you think about creating a closet in your master bedroom, this blog will help you master it.
Closet design tips
Using space-saving organizational items like hanging rods and shelves will help you make the most of your closet space. Double-decker closet rods can provide more hanging space, while shelves can be utilized to store folded clothing, shoes, and accessories. Closet doors can also be used to hang shoe organizers or hooks to store accessories and tank tops. These storage options can not only maximize your closet space but also make it easy to access your items when getting dressed.
Another important step in building a professional-looking closet is to invest in high-quality hangers and storage bins. Velvet hangers keep clothes from falling off and keep their shape, while translucent storage containers let you see what's within. Keeping your clothing and accessories neat in high-quality storage containers and hangers not only improves the appearance of your wardrobe but also extends the life of your belongings.
Decluttering and organizing your clothing and accessories are required to create a professional-looking closet in your master bedroom designs. It is critical to go through your closet and discard any clothes that you no longer use or wear. Not only will this free up room, but it will also make it easier to find everything you need when getting dressed. After you've decluttered, it's critical to organize your remaining items in a style that works for you.
Considerations for Determining Closet Dimensions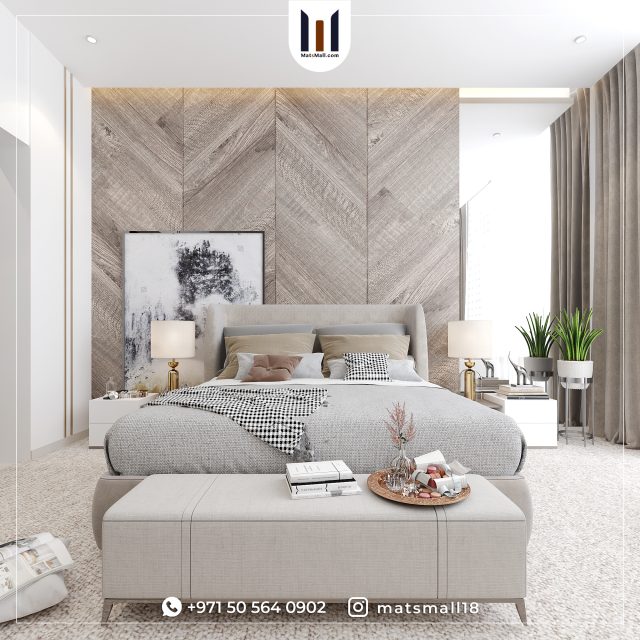 The first step in arranging your walk-in closet measurements is to assess the available space. You must consider the following points:
Dimensions of the room

Your financial situation

Storage necessities
After considering these criteria, select measurements and design choices for your bespoke closet space. You'll most likely have to make appropriate concessions for your situation.
You can use typical closet dimensions as a starting point. The average closet is 5 feet wide by 5 feet deep. This provides you with a cozy room, enough storage units, and just enough space to walk in.
A typical master closet for two individuals is 7 by 10 feet tall. You'll need at least 100 square feet to accommodate storage on three walls and a seating area in the center.
If you don't have much space, a 4 by 4-foot walk-in closet is plenty. Experiment with the design of your small closet to maximize space. The L configuration can be used to add extra storage space. If you don't have enough space for closet shelves, you may require a master closet with hanging rods.
Closet layout designs 
L shape closet 

U shape closet

One-sided closet 

Two-sided closet

Full closet with a door
How to choose the perfect mirror for your closet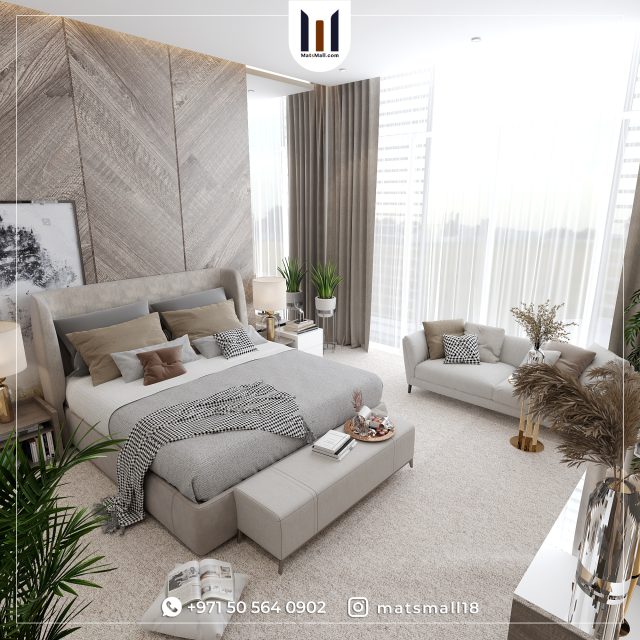 There are various elements to consider while selecting a mirror for your closet. The size and shape of the mirror are crucial considerations. The mirror should be appropriate to the size of the closet and its contents. A mirror two-thirds to three-quarters the width of the furniture piece is a decent size to consider. Furthermore, the mirror's shape might influence the closet's overall appearance. A medium-sized arching mirror, for example, can complement a square dresser while also reflecting the chandelier or wall decor.
Another element to consider is whether the mirror is framed or frameless. Framed mirrors, available in various forms and materials, can provide a decorative aspect to the closet. Frameless mirrors, on the other hand, are less expensive and can create a clean and modern look. A modestly framed mirror that is a few inches wide and made of a non-busy textured material can also give a pleasant balance that will work in almost any environment.
Lighting is a focal point in your closet
When selecting a mirror, consider its placement as well as the lighting in the closet. The use of the space will dictate where the mirror is placed. If the closet is primarily used for dressing rooms, a full-length mirror may be the best solution. Also, lighting is important since it influences the size and positioning of the mirror. Placing the mirror near a window or adding additional lighting to the closet might improve the reflection and overall atmosphere.
Tips to maximize your small closet space
Using a range of storage kinds is the key to a successful small walk-in closet, here are some tips and tricks from MatsMalls' professionals.
Use dividers on shelves 

Double up your hanging space 

Make use of your closet's door

Add an extra small drawer 

Use vacuum seal out bags 

Learn how to fold right 

Choose smart furniture and accessories
Paint colors for your closet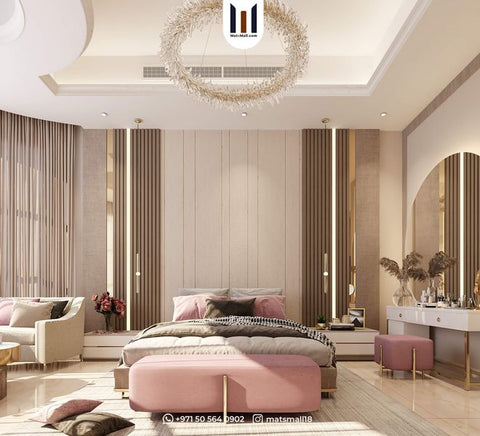 What is the best color paint for closets?
Whites, grays, browns, and beige are all excellent possibilities.
Keeping the walls in a closet neutral will make it more visually appealing. It is critical to use light-colored paint to brighten the space. If you have a large closet, you'll definitely want to make it feel cozier. You can accomplish this by selecting a darker neutral.
Know you can design your master bedroom closet like professionals; if you need help, you can contact us at +971505640902
Frequently Asked Questions about master bedroom closet designs.