Modern bedroom designs are distinguished by their basic and straightforward style. These designs stress clean lines, a limited color palette, and uncomplicated elegance. A relaxing and pleasant ambiance is created by the use of minimum furniture, minimalist decor, and uncluttered space, which encourages relaxation and restful sleep.
Many modern bedroom designs have a minimalist appearance that is pleasant and comfortable without compromising warmth or style. By implementing minimalist design ideas into a bedroom, one can create a visually pleasing place that is also conducive to a good night's sleep.
Key features of modern luxury bedroom 
The key feature of modern bedroom designs is the use of neutral hues and natural materials. Warm neutrals, such as creams, grays, and earth tones, are ideal for creating a peaceful sleep retreat. Natural elements, such as wood, stone, and linen, are regularly utilized in modern bedroom designs to provide a sense of warmth and relaxation. Modern bedroom designs can generate a sense of peace and relaxation by incorporating natural materials and warm neutrals, promoting restful sleep and a quiet frame of mind.
Modern bedroom designs may combine technology and smart elements to improve the sleeping experience. Smart furniture with space-saving characteristics like sufficient storage, modular design, and foldability can improve the comfort and functionality of a bedroom.
Ideas to make your bedroom look
luxurious yet modern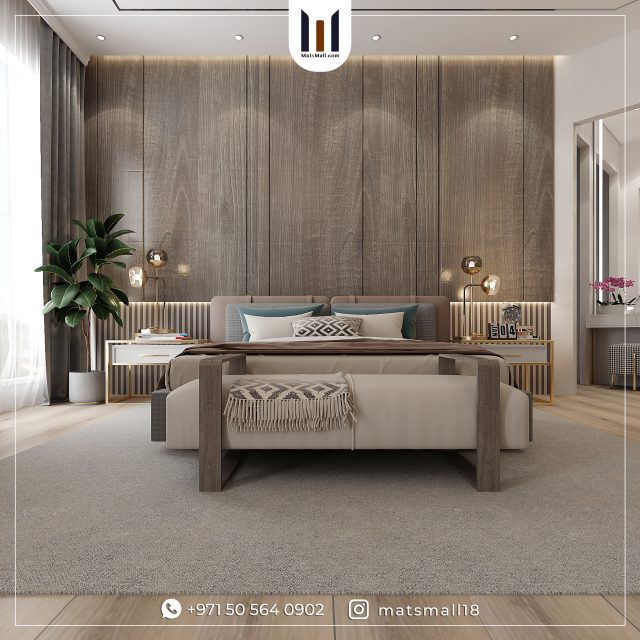 Choose a neutral color palette before designing your room 

Use ceiling wallpaper 

Go for pendant Lights and Floor Lights

Consider Using A Monochrome Bedroom Scheme

Invest in your flooring instead of carpets

Utilize bold patterns 

Add plants 
What Characterizes a Modern Room?
A minimalist or monochrome color scheme is an excellent approach to making a place look trendy. Use a lot of black and great contrast to modernize a bedroom.  It provides a sense of edginess, and modern furniture in a black stain or finish is usually easy to locate. 
This also allows you to go "all white" with your walls and window coverings, which is a must for a clean modern style.  'Don't forget to bring the room full circle with bold artwork and a touch of softness with rugs and bedding.
How Do You Refresh An Old Room?
By introducing new colors and textiles, you may make an old room look brand new. The use of texture to create depth and interest in a room is a significant aspect of many current designs. Layering white linens with a fabric or leather headboard, a rug in a natural material like wool or sisal, and then adding softness with a throw or pillows is one of the most appealing looks. Consider how you can make the space interesting without using bright colors.
Modern bedroom wall colors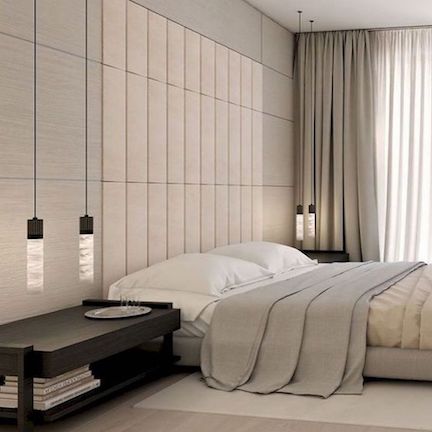 What color is the finest for a modern bedroom in 2023? For a rich contemporary theme, you can paint your bedroom in cool colors like blue, grey, and grey, or warm colors like red, orange, and yellow.
And you can go for white furniture as it gives the room an extra modern look.
Modern flooring options for the bedroom
There are various modern bedroom flooring designs to pick from, each with its distinct features. Hardwood flooring is a classic and popular bedroom flooring option. It creates a welcoming and pleasant environment, and its natural beauty can improve the overall aesthetic of the place.
There are many various styles of hardwood flooring to pick from, ranging from simple wide-plank designs to intricate parquet patterns. Hardwood flooring, on the other hand, can be costly and requires regular upkeep to keep it looking its best.
Laminate flooring is also available in several colors and styles, making it a versatile choice for any bedroom decor. However, it is not as durable as hardwood flooring and may need to be replaced more frequently.
Luxury vinyl flooring comes in several styles, including wood and stone, and can be put in planks or tiles. Also, luxury vinyl flooring is less expensive than hardwood flooring and requires less maintenance.
Read More: Amazing interior design before & after makeover photos
Budget-friendly ideas for modern luxury bedroom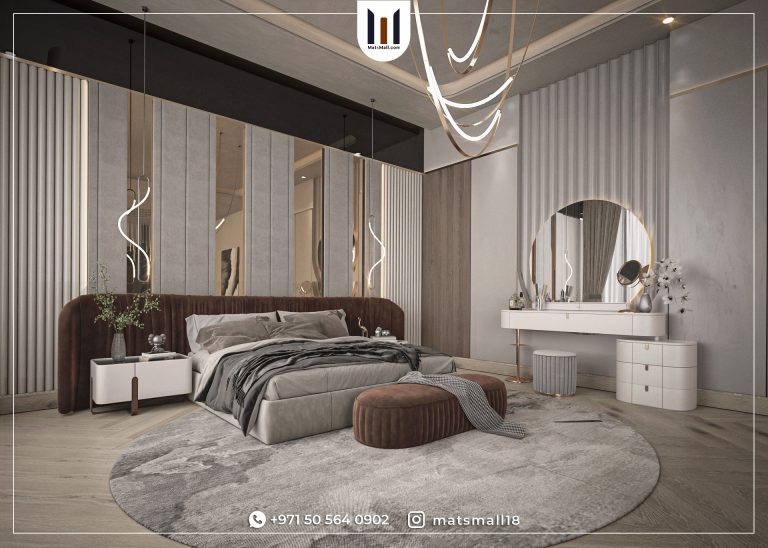 There is always room for change in your bedroom. If cost is your problem, check these easy and low-cost ideas from MatsMalls' professionals.
Upgrade your wall color 

Change your bedding 

Recycle your furniture

Hang wall art

Exchange your old rug

Add houseplants

Upgrade your lighting 

Invest in a new mirror 

Consider organizing your wardrobe 

Add new curtains 

Get colorful cushions 
These might look easy, but trust me they will give you the feeling of a new modern bedroom.
Matsmall will help you to get the ideal modern luxury bedroom design and enjoy one of a kind design experience with no online meetings and at the best cost. 
Contact us on WhatsApp at +971505640902 for a free consultation.