You may find the most contemporary wardrobe designs and the most recent ideas at MatsMall. Additionally, we provide you with some advice that you should consider before selecting the style of the closet.
How to select the right closet for your room?
As wardrobes influence the decor of your room and make it more attractive, there are a few things you should think about before picking a wardrobe design for your home in order to have a successful result.
Depth and dimensions of a wardrobeTo minimize your bedroom mess, you should choose the depth and dimensions of the closet designs to sort clothes perfectly. The average depth of the cabinet is up to 60 cm, and the unit sizes range from 250 to 300 cm in length. If space is limited and enormous sizes are not an option, you can purchase a closet starting at 40 cm. MatsMalls' designers will now create a custom wardrobe for you to meet the size and style of your room.
Select the doors. A key consideration when creating the wardrobe in your room is the choice of doors. Modern sliding doors can be chosen to save space in your room since fixed doors need an additional meter of space to open easily for daily use.
Utilize the inside closet units. The role of the internal areas and how to utilize them properly come next after deciding on the external construction of the wardrobe, as the cabinets should include shelves, hanging rods, and internal drawers to make it easy to keep your items. Choose the option that works best for you and the people who will be using your closet, as some people like to fold their clothes on shelves rather than hang them, and others prefer to hang their clothes instead of fold them.
If you need a consultation on how to design your closet, contact MatsMall for a free consultation.
Contact us on +971505640902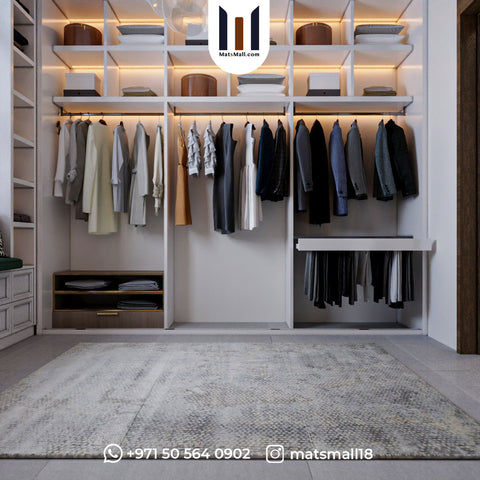 Check these topics to answer all of your questions about interior designing and decoration for both residential projects or commercial: