A majlis is the main room in an Arab house for welcoming and entertaining visitors, similar to a reception, with a separate entryway and a larger entrance door. In this blog we will discuss the main features to design an Arab majlis design at your home. 
What is Majlis interior design?
Majlis is a room in Arab culture where homeowners receive guests, and it is currently common in countries other than Arab countries; it is also known as a living room or reception. 
There are a variety of designs that can be used in a majlis room to keep people entertained and welcomed without having to leave the area. 
 Key features of Majlis interior design 
To impress visitors and make them feel at ease, the Arabic Majlis should be comfortable and elegant. The Majlis should contain comfortable seats, such as a soft sofa and chairs for long meetings and conversations. Despite the fact that the design is continuously changing, some people prefer original floor seating for their majlis. The Arab floor majlis is unique among majlis decorations.
Arab seating styles are available in a range of colors, fabrics, and decoration to suit all tastes.
TIPS FOR MAJLIS DESIGN IDEAS AND DECOR
Traditional Arab culture emphasizes being welcoming and pleasant to guests. If you want to provide your guests with the same experience, here are a few Majlis design ideas to help you build a traditional Majlis at home. 
To keep a welcoming balance among visitors, arrange seats close together, add a table at arm's reach that is not too high from the seating, and consider the size of your seating so people can move freely around it. 
Make it a connecting place
Never put a screen or a television in an Arabic Majlis if you wish to socialize with people. If you want to have such a device in your Majlis, make it portable.
Add some tradition elgence
Arabic Majlis interior design also incorporates traditional and classical patterns, geometric patterns, and warm colors.
When choosing furniture and decorations for Majlis, stick to warm and neutral colors.
Make sure the lighting is good enough for everyone in the room to see each other.
Maintain the majlis' privacy
To maintain the room's privacy, consider making a separate door for the room where guests can move freely without enter your home. 
Classic majlis interior design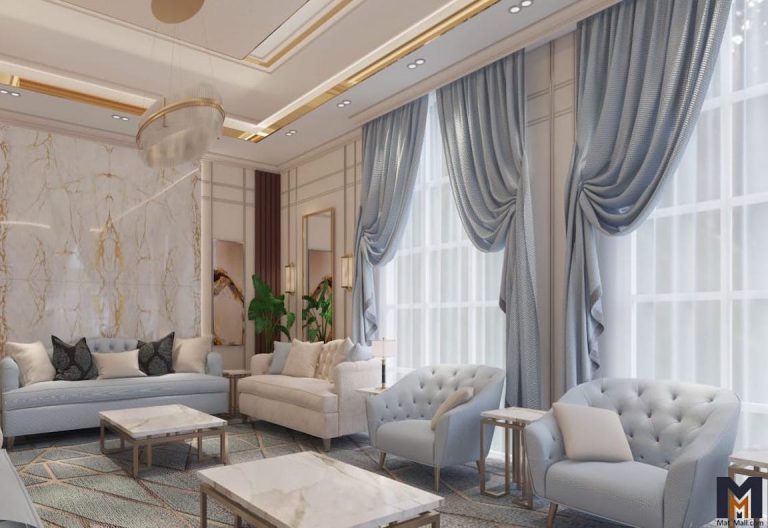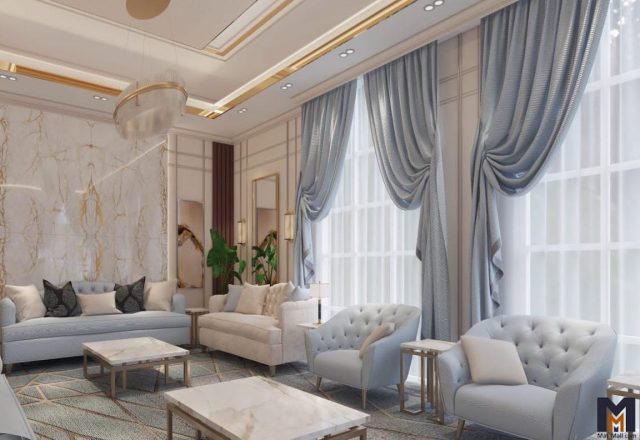 Traditional Arabic architectural components are used in classic Majlis interior design. These components include ornate floors and ceilings with center medallions and florid patterns, as well as arched doors and windows. The inclusion of these historic elements generates a sense of authenticity and cultural legacy in the area. This design style can be used in a range of interior design styles, such as contemporary, classic, traditional, or a blend of styles. By combining traditional Arabic motifs, the design generates a sense of warmth and comfort in the space.
Color palettes that are rich and vibrant are also essential in classic majlis interior design. Deep sea blues, navy, cobalt, royal, and aqua blue are frequently utilized to generate a sense of peace.
Modern majlis interior design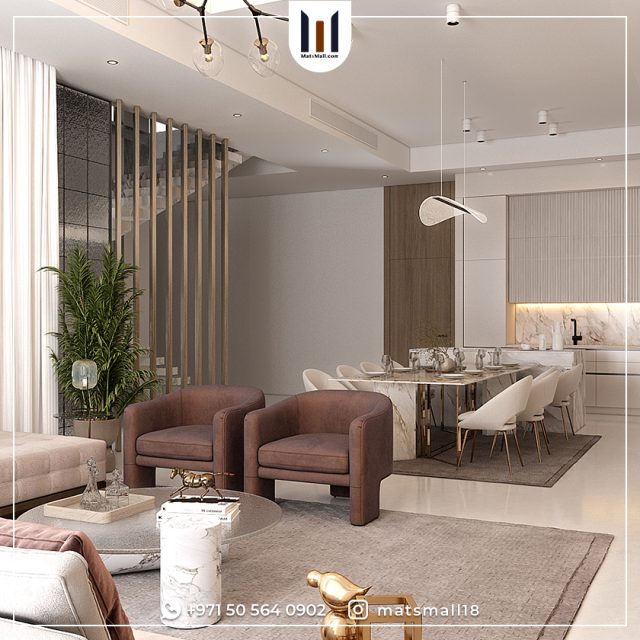 Lighter hues, such as beige and white, can be used in modern majlis interior designs to compliment the Islamic art and calligraphy that is commonly found in traditional majlis interiors.
A comfortable seating arrangement is also an important component of modern interior design. Seating should be configured to encourage social interactions and talks, with comfortable sofas and chairs appropriate for protracted meetings and discussions. Seating arrangements can also be tailored to the size of the room and the individual demands of the inhabitants, with horseshoe-style seating available for bigger meetings. 
Men majlis interior design 
Traditional men majlis interior design incorporates earthy and neutral colors. This color scheme generates a peaceful and welcoming atmosphere, which is essential for a space designed for social events and chats. The magnificent male majlis in the Moroccan style is dominated by the use of brown, bronze, ocher, and umber colors. 
Another key aspect of men's majlis interior design is the use of traditional Islamic art and calligraphy. Calligraphy is an essential part of Islamic art since it is used to beautify Quran manuscripts and other holy writings. Geometric and floral designs are very popular in Islamic art and can be used in the design of a man's Majlis. These pieces offer a cultural and spiritual dimension to the room, producing a one-of-a-kind and significant atmosphere.
Women majlis interior design 
The women's majlis room conveys a sense of calmness, elegance, and flexibility in terms of décor to suit the nature of women's meetings, which are always cheerful and simple discussions.
When it comes to designing their majlis room in the UAE, ladies choose modern decor. However, some females choose to choose expensive furnishings and decor for their majlis uae.
Ideas for modern women's majlis decoration:
    Choosing contemporary wall colors

    Selecting simple Majlis furnishings

    Choose appropriate and neutral colors for your home.

    Ceiling gypsum decorating
Keep the majlis a private room 
To keep the majlis a private room, consider adding a small kitchen or a coffee area where people can make their drinks. You may even install a guest bathroom or an external door so guests can come and leave as they like without invading your home's privacy. 
You can decor your majlis interior design alone, or you can consult professionals to do the work for you. MatsMall can assist in designing a unique majlis design as per your preferred style and the use of the majlis, contact us now at +971505640902 and get a free consultation. 
Frequently asked questions about majlis interior design