When it comes to designing your hall, simplicity is key. By keeping things simple, you can create a welcoming and functional space that sets the tone for the rest of your home.
The hall is the heart of your home! It's a space where family and friends gather, and memories are made. 
In this article we will help you with best ideas to design the perfect hall, because at MatsMall we believe that hall design can do, there are 6 ideas you have to consider when you are choosing your hall interior design:
The Layout

The Color Scheme

Power of Lighting

Add a Touch of Personality

Storage Solutions

Add Mirrors
The Layout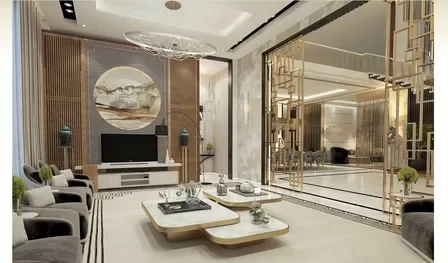 If you want to get the perfect interior design for your hall you have to plan it very well to get the perfect layout, because a well-designed hall should have a clear flow and an open feel to have great time. 
Keep the space clutter-free by choosing furniture and decor that serve a purpose and don't overcrowd the area. 

Consider a console table near the entrance, where you can place keys, mail, or decorative accents. This not only adds functionality but also gives a warm welcome to anyone who enters your home. You can also see Ideas to create indoor landscape partition
The Color Scheme
One of the most important factor you have to consider when you are designing your hall is the color scheme because you have to think about it which is better for your space but you have to consider the following:
Neutral tones are a popular choice for hallways as they create a sense of spaciousness and allow for easy coordination with other areas of your home. 

Light colors, like whites, creams, or soft grays, can make the space feel bright and airy. If you want to add a pop of color, consider incorporating it through artwork, a rug, or decorative accessories.
Power of Lighting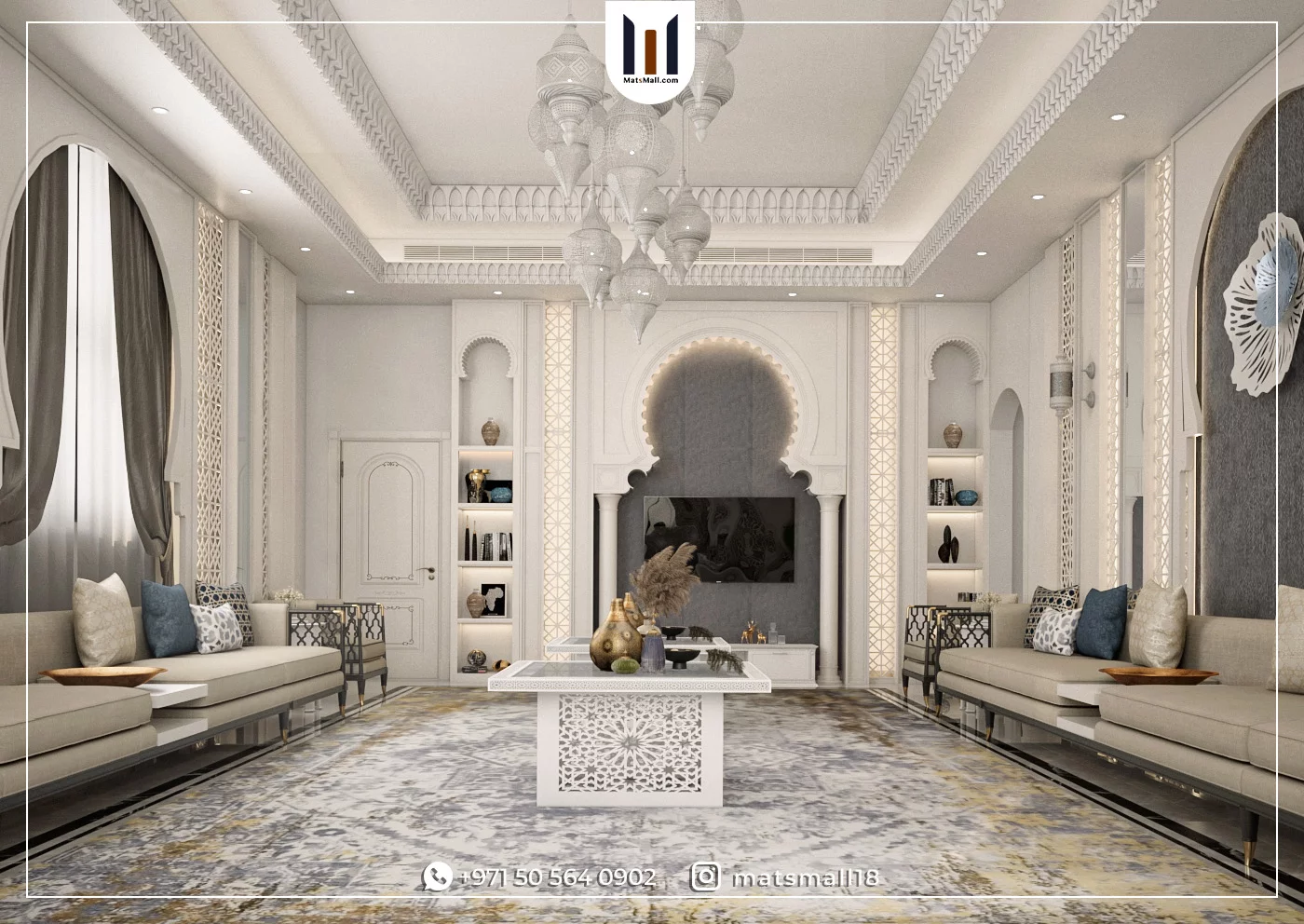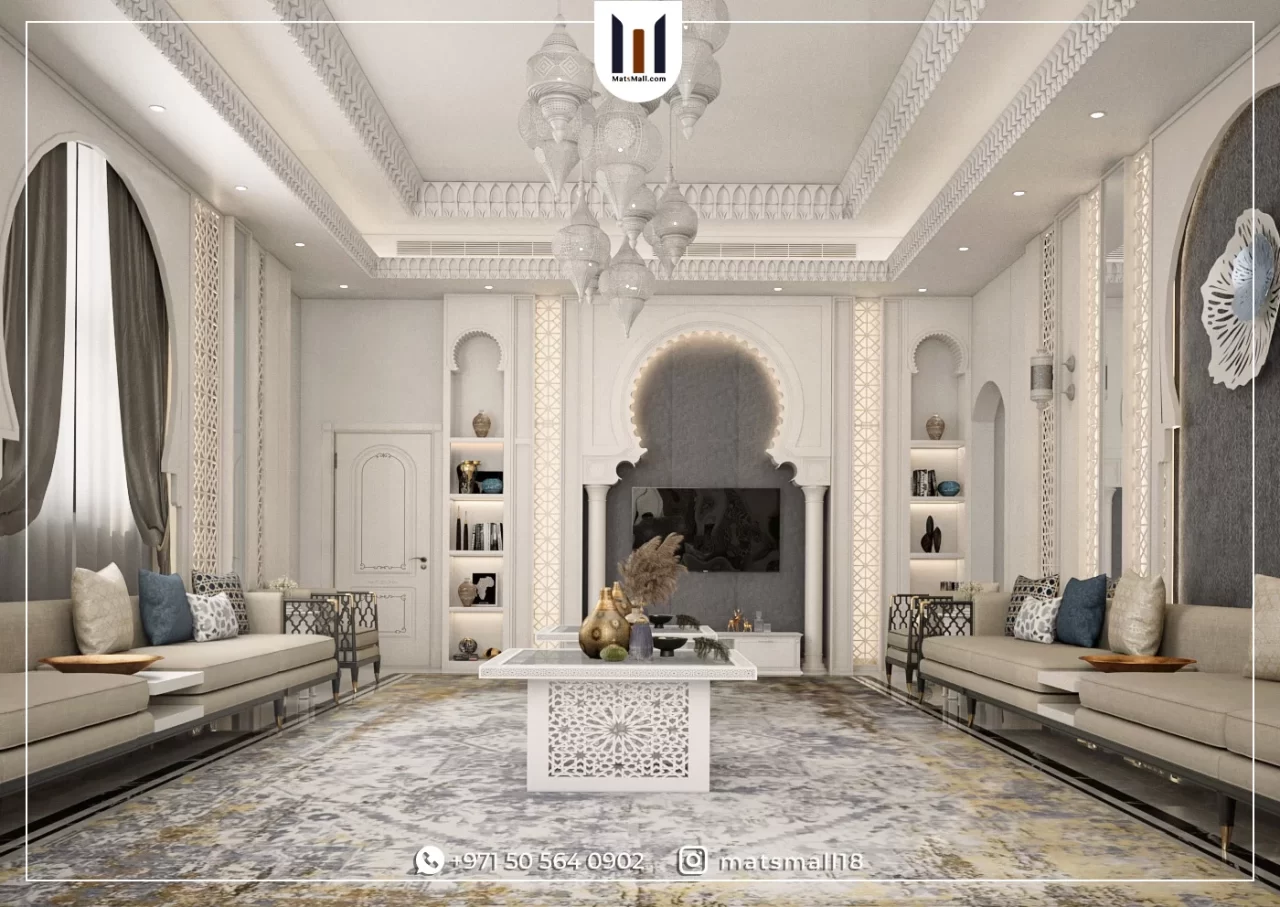 Lighting is crucial in a hall, MatsMall interior designers always recommend to use natural light because it's the ideal idea for any space, so if possible, maximize the amount of sunlight that enters the space. Use sheer curtains or blinds that allow light to filter through while still providing privacy. 
Artificial lighting, opt for fixtures that provide ample brightness to create a well-lit environment. Wall sconces, pendant lights, or a statement chandelier can add a touch of elegance and illuminate the space effectively.
Add a Touch of Personality
It is very important to add a touch of personality to the interior design of your home, because your home is a reflection of you, and it should be a place where you feel comfortable and relaxed. 
Adding personal touches will make it feel more inviting and welcoming, and it will also help you to express your unique style.
You can add the personal touch by considering incorporating artwork or family photographs. Hang a gallery wall of framed pictures or display artwork that brings joy and reflects your style.
This not only adds visual interest but also makes the hall feel more personal and inviting as we mentioned before. You can see Creative Interior decorating ideas for homes
Storage Solutions
You have to consider the storage in your hall design for example:
Hooks or a coat rack near the entrance can keep jackets, hats, and bags organized and easily accessible. 

A stylish shoe rack or a storage bench can provide a designated spot for shoes, keeping the area tidy and clutter-free.

More shelvies for decoration to use it for many purposes to get the perfect interior design.
Add Mirrors
Consider adding a mirror to your hall, because mirrors are not only serve a practical purpose but also create an illusion of more space and reflect light, making the area feel brighter and more open, mirrors is perfect solution especially for small spaces, it's the best solution.
It can make a space feel larger and brighter. Mirrors reflect light, which can make a small space feel larger and more open. They can also be used to bounce light around a room, making it brighter.

A large or well-placed mirror can create a focal point in a room. This can be especially helpful in a room with multiple focal points, such as a fireplace and a TV.

Mirrors can be used to add interest and visual appeal to a room. They can be used to create a gallery wall, or to simply reflect a beautiful view.

Conceal imperfections. Mirrors can be used to conceal imperfections in a wall or ceiling. For example, a mirror can be hung over a crack in a wall to hide it.
The most important advice is to keep it simpl, because simplicity is key when designing your hall, you have to focus on creating a clutter-free, well-lit, and welcoming space that sets the tone for your home. By incorporating functional furniture, a neutral color scheme, and personal touches, you can create a hall that is both stylish and inviting for all who enter.You can see 9 Amazing Ideas to Transform Your Home Garden Design
At MatsMall we will help you by providing different services to design the best interior design style you like most with our professional engineers and our interior designers. Send a message for more information or details 971505640902.