To create beautiful interiors, space, line, form, light, color, texture, and pattern are among the main components of interior home design. The elegant interior design depends on striking a balance between these factors. Following lines, forms, light, color, texture, and pattern, space is the first element.
Lines, which aid in establishing a sense of movement and direction within a space, are the second-most crucial element in interior design after space. A space can benefit from additional components like texture, color, and pattern that offer depth and intrigue. Therefore, to create a beautiful and practical living space, it is crucial to understand and include these major interior design elements.
Main elements of interior design
Choosing the ideal color scheme and design style for your home is one of the most essential elements of interior decorating. A carefully chosen color scheme can transform a room and give it a unified, fashionable appearance. Interior designers advise selecting a color scheme that expresses your taste and enhances the house's architecture.
There are various tools to assist you in choosing the ideal color scheme for your house, including professional assistance and online guidelines. There are countless options for designing a lovely and welcoming living area, from warm neutrals to vibrant colors. The idea is to pick colors that make you feel happy and comfortable in your house, whether you prefer a monochrome style or a mix of complementing hues.
It's necessary to think about both design and function when selecting furniture and decorative items. Furniture should enhance the overall look of the room while also being cosy and useful. Any room can be decorated with decorative items like carpets, throw pillows, and pieces of art to add color and texture. Combining several materials and styles can produce a unique and diverse effect. With a little imagination, you can make your house into a chic and useful living area that showcases your distinct tastes and personality. 
The finishing touches that can truly make a space feel complete are lighting and accessories. There are various alternatives for lighting, from bold chandeliers to understated wall sconces, to help create a warm and welcoming environment. Decorative cushions, candles, and plants are a few examples of accessories that may complete a space perfectly and bring the entire design together.
Easy steps to decorating your home by yourself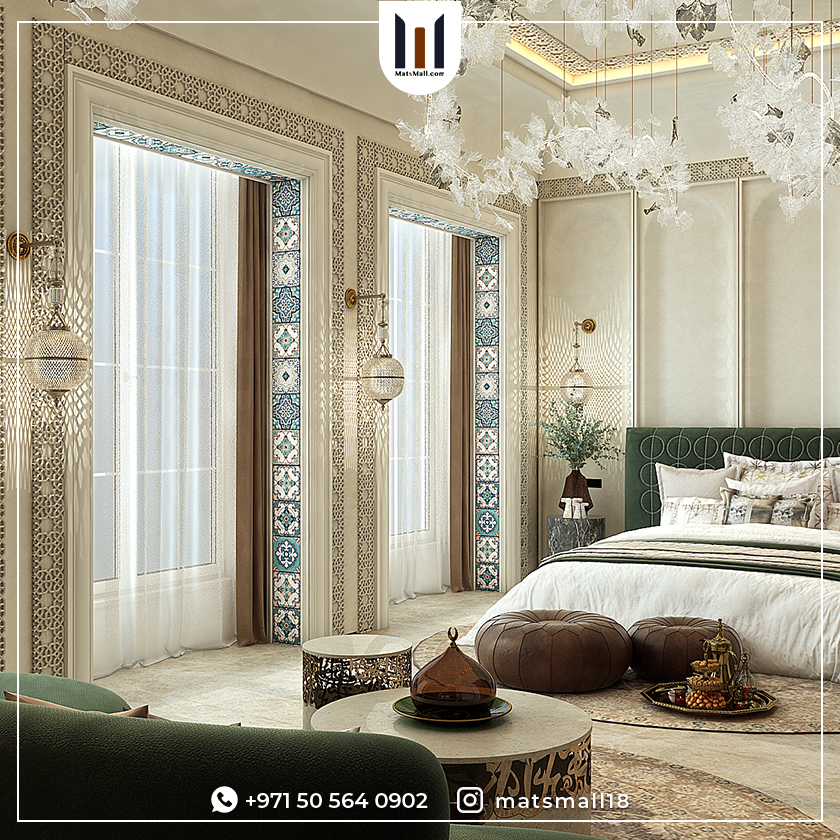 Although it could seem challenging, I assure you that you are the expert on your house. You can create special decorations to hide the house's flaws and enhance its strengths. MatsMall's professionals suggest the following tips to master your interior decoration:
Choose a different front door tone.
First impressions last forever; if you want to make a great first impression, choose a vibrant and glossy color.
Natural and bright paint colors
When decorating the first floor, especially, keep the color scheme neutral by sticking to beige or gray. The most decorative flexibility is provided by neutral walls, which make it simple to change up your accessories.
Arrange your furniture in the right way.
When arranging the furniture in your living room, try to maintain a similar sense of harmony and coziness.
Natural light can make your home more elegant and healthy, so pick curtains that allow sunlight.
At least one mirror should be in every room.
Mirrors can make a space feel brighter because they bounce light around the room.
Use different types of lighting.
There should be three different types of lighting in every space: normal, which offers broad light and is frequently provided by ceiling fixtures; task, which is frequently found above a kitchen island or a reading corner; and focal point, which is more aesthetically pleasing and highlights items like artwork.
Make sure your sofa legs are positioned on the rug because it should define your seating area.
You can have a well-designed interior for your home by using the techniques mentioned above.
Inexpensive ways to decorate your wall
Interior design decorating ideas are all about matching your colors, textures, and furniture together. Now we will advise you on how to make your basic wall look rich and elegant.
Choose one wall in your room and paint it with another vibrant color; it could be plain, striped, or splashed.
The artwork looks great in all-white rooms, but it might be difficult to find pieces that go with your design.
This might sound old, but it always makes a great wall decoration in an easy step.
Wall baskets
Hanging plants 
Mirrors
Interior design decorating ideas for a small corner
Everyone's home has a useless space that they wish they could use; now we will tell you how to decorate it in easy steps.
Add an extra chair.

Hang up a plant.

Add a home desk.

Add a large mirror.

Add wall art.

Hang some shelves.

Add a ladder for extra organization space.

Create a bookshelf.

Create a coffee corner.
There are numerous items you can add to your area to liven it up and make an attractive display. Just keep in mind that there are no rules when it comes to designing your home, which is our number one guideline! The most important thing is that you are happy, so do whatever it is that you believe is appropriate.
If you are struggling to put your interior design decoration ideas together, contact us through WhatsApp at +971505640902 to understand the basics of interior design decoration.