Modern bathroom design is characterized by its stylish, simple design, use of modern materials, and integration of advanced technology. Homeowners can create a comfortable and effective space that fulfills their needs and objectives by embracing minimalist design, utilizing modern materials, and implementing smart technology.
What is the concept of a modern bathroom?
Modern bathrooms greatly benefit from minimalist designs because they give the room a more airy, spacious appearance. This design is also ideal for those who want a space that is stylish, clutter-free, and tidy. A cool and modern touch can be added to the area by using modern materials like deep black penny tiles and rattan decorations.
Although the colors of modern design are concrete gray, stainless steel silver, bronze brass, copper wiring, rusting steel, and green glass, all of these components and hues contribute to a successful modern bathroom design.
Modern bathroom design features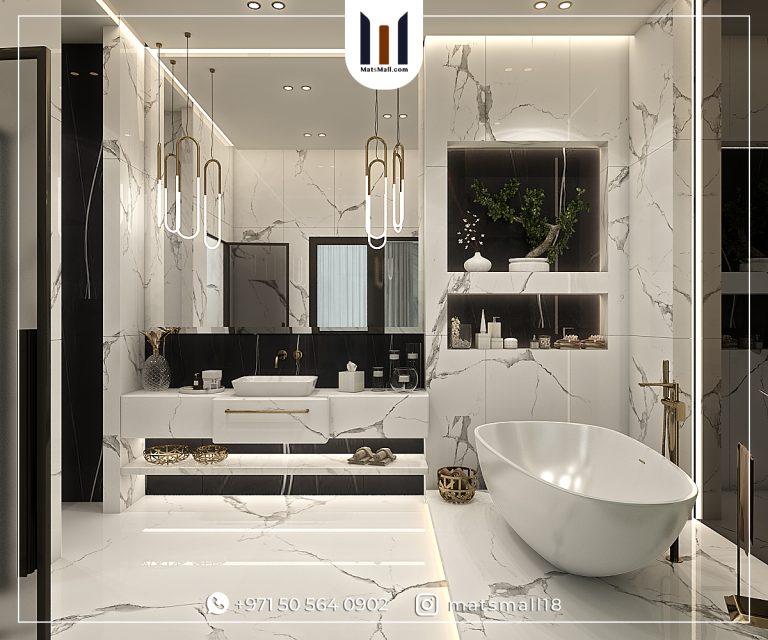 If you are a fan of modern bathroom design, here is a list of the most commonly used features in modern bathroom interior design.
 Freestanding bathtubs 

Mirror cabinet 

Smoked glass door, the glass is much darker in tone, less shiny, and, thus, less reflective.

Tall hanging cabinet 

High-quality countertop

Smart lighting 

Round mirrors

A Floating Vanity and Toilet

Geometric Tile Shapes

Netural color palette
How to refresh your modern bathroom in smart ways
Changing the design of your bathroom is expensive; not everyone can afford it. But if you want to refresh the interior design of your modern bathroom, Matsmall suggests the following ideas.
Invest in a new mirror

Change your shower curtain

Get some new towels 

Add a new storage unit 

Update your bathroom mats and rugs

Change your walls by choosing different paint colours or by adding wallpapers

Exchange your old lighting with a more modern one

Spread some candles for a lovely scent
How to choose modern bathtubs and sinks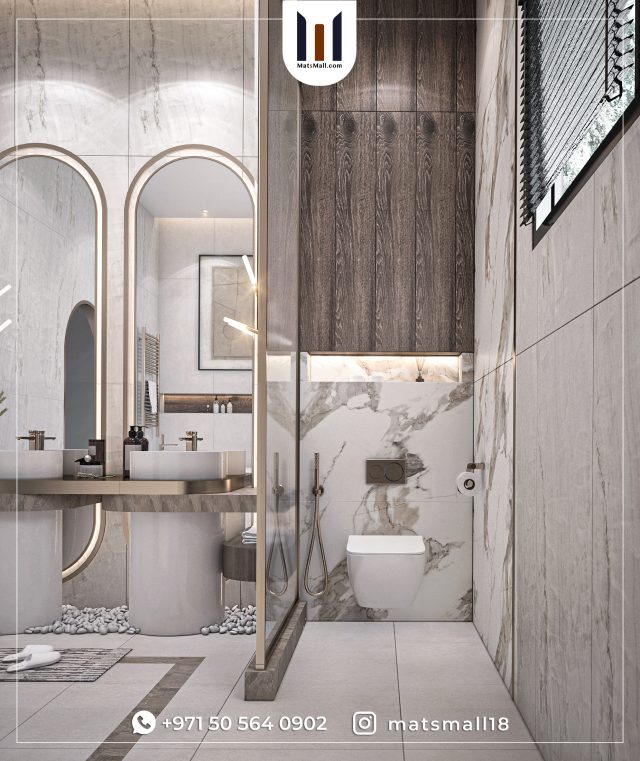 You should choose the best bathtubs for your bathroom in terms of form, shape, durability, and hardness, as these qualities are now required for bathtubs in bathrooms with various styles and shapes. To avoid crowding the bathroom and limiting movement, you must select the most appropriate for the available space. You should also select creative and contemporary designs that complement your modern bathroom. Choose carefully what suits you from among the many beautiful designs that are offered on the market, as their prices vary depending on the type of materials used.
Decoration ideas for a small modern bathroom
Maximizing storage and functionality in a tiny space is one of the main design problems of a small modern bathroom. Utilizing wall space with shelves and cabinets is vital for overcoming this problem. Without consuming precious floor space, built-in cabinets and shelves can offer enough storage. 
To store frequently used things nearby and easily accessible, make use of vertical open display storage options like a towel rail or wooden ladder shelf. Hidden shelves, hidden chambers within the walls, and under-sink cabinets are other hidden storage options. A modern bathroom can be made to be both useful and aesthetically beautiful by including these hidden storage options. 
Tips for designing a small modern bathroom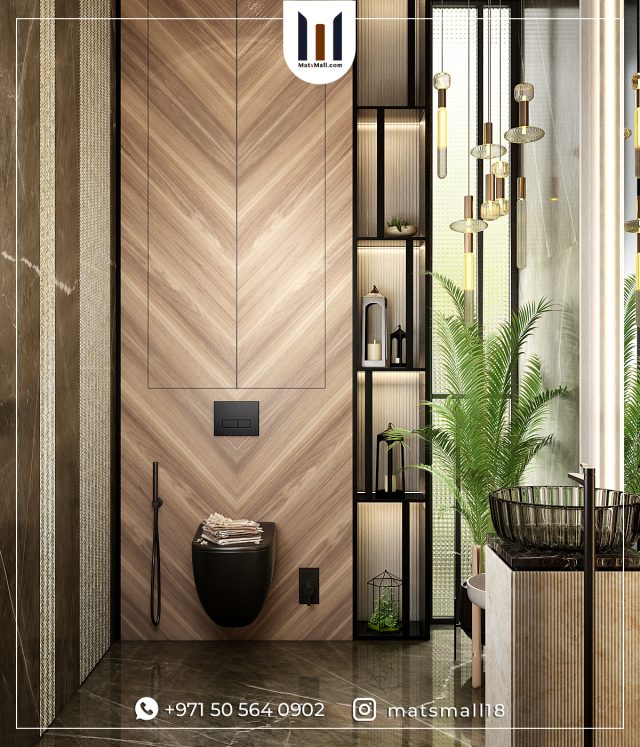 Matsmall's professionals suggest the following tips to make the most of a small bathroom design:
Choose small and functional tubs 

Consider sliding doors to save space in a small bathroom

Shower rooms are way better than bathtubs.

Use bright paint colours 

Create a focal point, like big round mirrors

Don't be afraid to add pop colours 

Distribute industrial lights in smart ways
Here are some tips for designing Hotel bathrooms in your house.
Smart storage solutions in modern bathroom
If you're looking for some innovative storage solutions for modern bathrooms interior design, you might want to think about these possibilities:
– A simple storage unit can add more concealed storage space for your bathroom necessities under a freestanding sink.
– To provide towel storage and update your bathroom, lean a stylish ladder against the wall.
– Plants, candles, soaps, and toothbrush holders can be displayed on window sills to give your bathroom some personality and charm.
– Nearby a freestanding tub or in the corner of your bathroom, a chair can be utilized to store extra towels, toiletries, or magazines.
These are a few examples of how using modern storage solutions may improve both the functionality and aesthetics of your bathroom. 
Paint colours for modern bathroom design
Paint colours can significantly affect the mood and atmosphere of a bathroom. You might pick a paint colour that harmonizes or contrasts with your current decor, furnishings, and fixtures depending on the bathroom's size, layout, lighting, and style. Here are some colour schemes for inspiration:
Neutral colors that give a clean and airy feeling, such as light grays, off-whites, and gentle blue-greens, work well in bathrooms because they can be readily matched with any other colors or materials.

In your bathroom, muted hues like gray, olive green, and blush pink is modest and elegant. They also provide your bathroom with a cosy, warm feel, especially if you have candles or natural light.

Vibrant colours like yellow, turquoise, and fuchsia brighten your bathroom and improve your feelings. Bright colours can make your bathroom stand out from the rest of your house because they are daring and enjoyable.
Any paint colour you decide on for your bathroom should be tested first on the walls before being used throughout the space. If you want to check how the colour appears in various lighting situations and angles, you can purchase paint swatches or samples from your local hardware store. Always check the colour in the space before committing because you can find that it looks very different there than it does there.
Painting your bathroom can be a fun and easy way to update your bathroom design without spending too much money or time. With these paint colour ideas, you can create a modern bathroom that suits your style and needs.
Design your modern bathroom now!
Modern bathrooms are very popular in interior design, but it requires a lot of work to master them.
Contact us now for professional assistance. Send us a WhatsApp message at +971505640902.