I know you are searching for the right tips to design a luxurious bathroom. In this article, you will learn the basics of designing a hotel bathroom at home.
Steps to help you design luxury hotel bathrooms in your home
Hotel bathroom designs immediately impress all guests, and they always wish to have a bathroom similar to their own. In this article, we'll go over some tips and tricks for designing a hotel bathroom in Dubai. We will also advise you on the best designs for your home.
What differentiates the luxury hotel bathroom design?
Travelers seek luxury hotels for the peace and comfort they provide, so luxury hotels strive to provide comfort through the quality and variety of facilities, rooms, and services.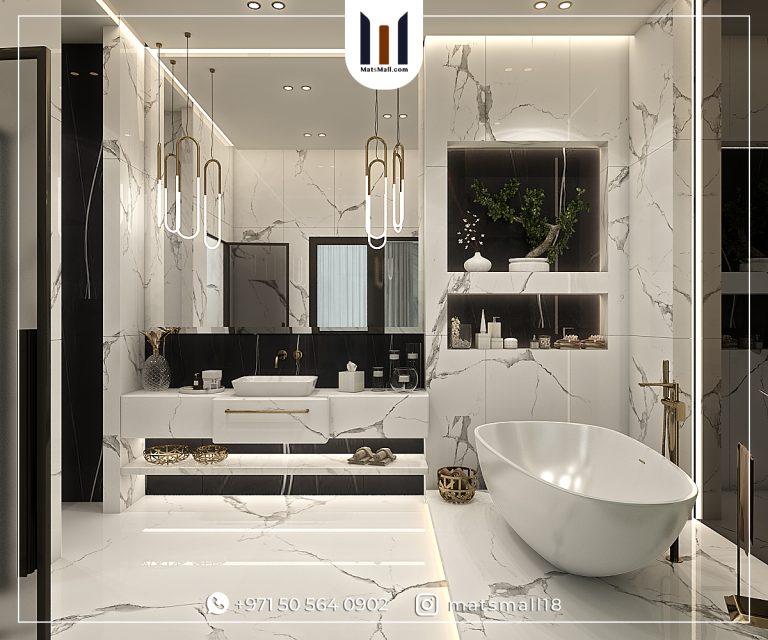 Bathroom hotel designs are distinguished by the finest materials used in floors, facilities, and lighting, and each hotel is identified by unique options that set it apart from other hotels in the UAE.
The hotel room bathroom design in Dubai hotels is known for its elegance and variety while remaining functional in order to meet the needs of its visitors. As a result, the hotel is concerned with selecting ceramics and interiors that complement the hotel's style.
Hotel facilities vary greatly; you will find a small space hotel bathroom design in a simple three-star hotel, but they have a practical small hotel bathroom design. There is also a luxury 5-star hotel bathroom design, which is elegant and classic.
Do you want a home bathroom design that is similar to hotel bathroom designs?
You can get the designs of luxury bathrooms, such as five-star hotel bathroom designs and best hotel bathrooms design, in a few simple steps. MatsMall's designers and experts will provide you with some tips to consider when designing bathrooms.
Five steps to creating a hotel-style bathroom in your own home
To obtain a luxurious bathroom design and a modern small hotel bathroom design, such as those found in hotels, you must follow the steps outlined by the experts at MatsMall Interior Design Company in Dubai.
First and foremost, select and define the colors.
The harmony of colors is one of the most important steps in achieving a luxurious bathroom design.
White is a good color in the design of small bathrooms as it creates the illusion of space, and most bathroom supplies are in white which allows you to manage colors to feel comfortable and calm. You can also choose attractive colored accessories or wallpaper for your white bathroom to refresh the vibes and give it a modern and cheerful appearance. You have the option of using red, blue, or yellow.
Second, select the flooring.
When designing a bathroom, selecting ceramics and floors requires some research. When selecting ceramics for small or large bathrooms, there are three main factors to consider:
1- The size of the ceramic to fit the size of the floor; choose a small ceramic size if the bathroom is small and a large ceramic shape if it is a bigger bathroom.
Choose a ceramic color that matches the bathroom's design. Most interior designers prefer ceramic colors that make it feel natural, such as; brown and its shades. You can go for two or more colors that match together can be chosen and combined while placing the ceramic in a certain pattern, as this method has become more common in the world of ceramics.
3- The design and shape of ceramics determine the type of flooring used, smooth and shiny ceramics should be avoided when designing small bathrooms.
Third: decoration and final touches.
You can always use decorations to improve and decorate your bathroom. Hotel bathrooms are relaxing because they allow you to chill by playing around with decor items. Plants and mirrors are two simple touches that can help you create a modern hotel bathroom in your home. You can also choose the simple small hotel bathroom design by searching online or by contacting MatsMall designers.
Fourth: Lighting can make it or break it.
The importance of lighting in bathroom design cannot be overstated. A well-lit bathroom makes a significant difference in its design. Using white lights instead of warm colors can help to improve bathroom lighting.
Fifthly: Storage units.
Closets and storage units are essential in the design of small hotel bathrooms because they conceal any external elements.
Baskets, glass jars, and bowls can be used as alternative storage solutions for toilet paper, towels, and other bathroom items.
As previously stated, designing a stylish and luxurious bathroom is not a difficult task. With a few small decorating touches, you can have the perfect hotel bathroom design plan at your home.
Here are some tips to upgrade your bathroom at the lowest cost.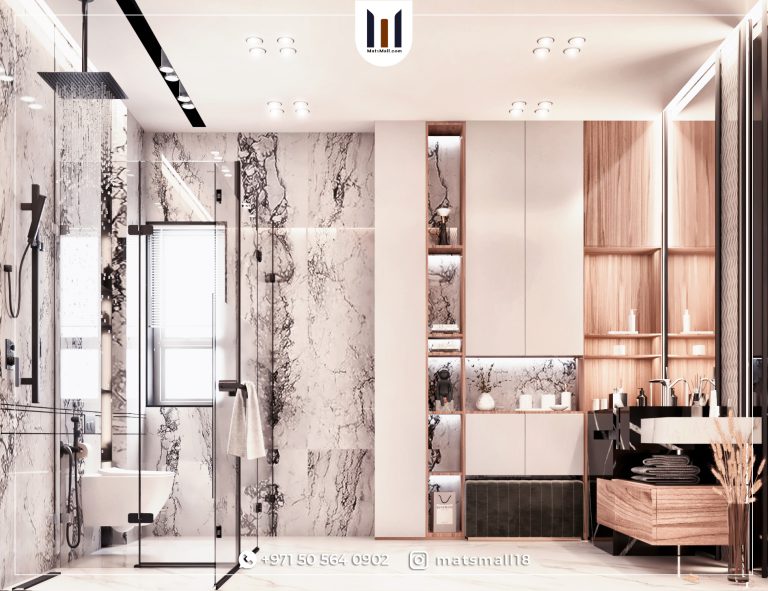 Here are the latest tips. If you want to renovate your old home bathroom at the lowest cost, follow these steps:
1- Switch your bathtub to a spacious shower.
The process of renovating the bathtub with a shower and glass cabin is an easy and inexpensive process that can be done in a small bathroom; With this modification, your bathroom will look larger and more modern.
2- Floor renovation.
Using natural tiles will give your bathroom an elegant and modern look. It is common in contemporary bathrooms to choose a single-tile design for all floors and surfaces.
3- Modify the colors.
Old bathrooms are always painted in a single color, such as white or another natural color. If you want to have a modern small hotel bathroom design at your home or villa, add vibrant colors like blue to the walls or accessories.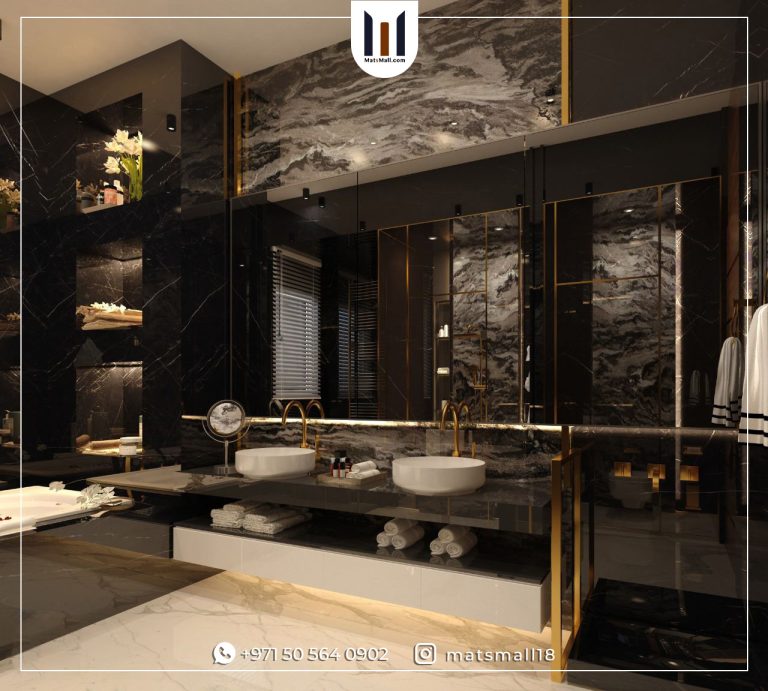 4- Purchase a new mirror.
Consider replacing your old mirror with a new one; mirror frames with simple, clean lines or a unique look and design are both options. It will look fantastic with proper lighting!
As we stated above, to own a luxury hotel bathroom design at your home, you need to ask experts to choose what will fit your bathroom and which layout you should go for.
If you have any inquiries regarding hotel bathroom design, you have to contact MatsMalls' designers to give you the best advice.
Get a free consultation in Dubai when you contact us on +971505640902
Check these topics to answer all of your questions about interior designing and decoration for both residential projects or commercial: