Welcomeing your guests into your home and make them feel comfortable it can be considered a sign of generosity especially in arab countries. So it's very important to create and design a luxury and comfy simple arabic majlis design which is often inspired by Islamic architecture, because majlis is a traditional meeting space where people can gather to socialize, discuss something, or to just relax.
How to design a simple Arabic majlis:
Majlis Seating:
First according to arab traditions and their generosity you have to be very carful when you are designing your Arabic majlis especially when you are choosing your majlis seating to be comfortable enough for your guests as people are expected to spend a lot of time sitting there. You can use cushions, pillows, or even mattresses to make the seating as comfortable as possible.
Your space lighting:
Lighting is very important in any space because especially where your welcoming your guests; Lighting helps to create a sense of openness, spaciousness and welcoming feeling.
Using natural light from windows or balcony or even skylights is very important because it give you a welcoming feeling and it also add brighten up to you space. And that doenc't mean you will not use the artificial light because it's very important also, you can use things such as chandeliers or lamps.
Decoration items in Arabic majlis:
decoration items always add a luxury touch and make the space more luxury.
Arabic majlis are often Decorate your majlis interior design with traditional Islamic art pieces and Islamic architecture items such as calligraphy, tilework, geometric patterns, floral patterns or Arabic-inspired furniture.
Don't forget to add a personal touche:
Adding your personal touche to your majlis room make it feel like your own space and the percoanl touch could be a your family photos, like your wedding photo or you children, your trophy, artwork, or  your travel souvenirs.
Your focal point:
The focal point of an Arabic majlis because it creates a sense of balance and harmony in a room between all your elements in it. The focal point is a point in your room where the eye is drawn to first. It is often to be a fireplace, a water fountain, or a piece of artwork especially in the luxury arabic majlis, because it's the place where people will naturally gravitate towards, so make sure it is something that you love!
Use natural materials and colors:
first natural material when you are designing your Arabic majlis you have to use natural materials such as wood, stone, and fabric. These materials create a warm and inviting feeling.
Second the natural colors, use natural colors such as white, beige, and brown to create a sense of peace and warm atmosphere.
Tips and tricks to keep the balance  your simple arabic majlis design: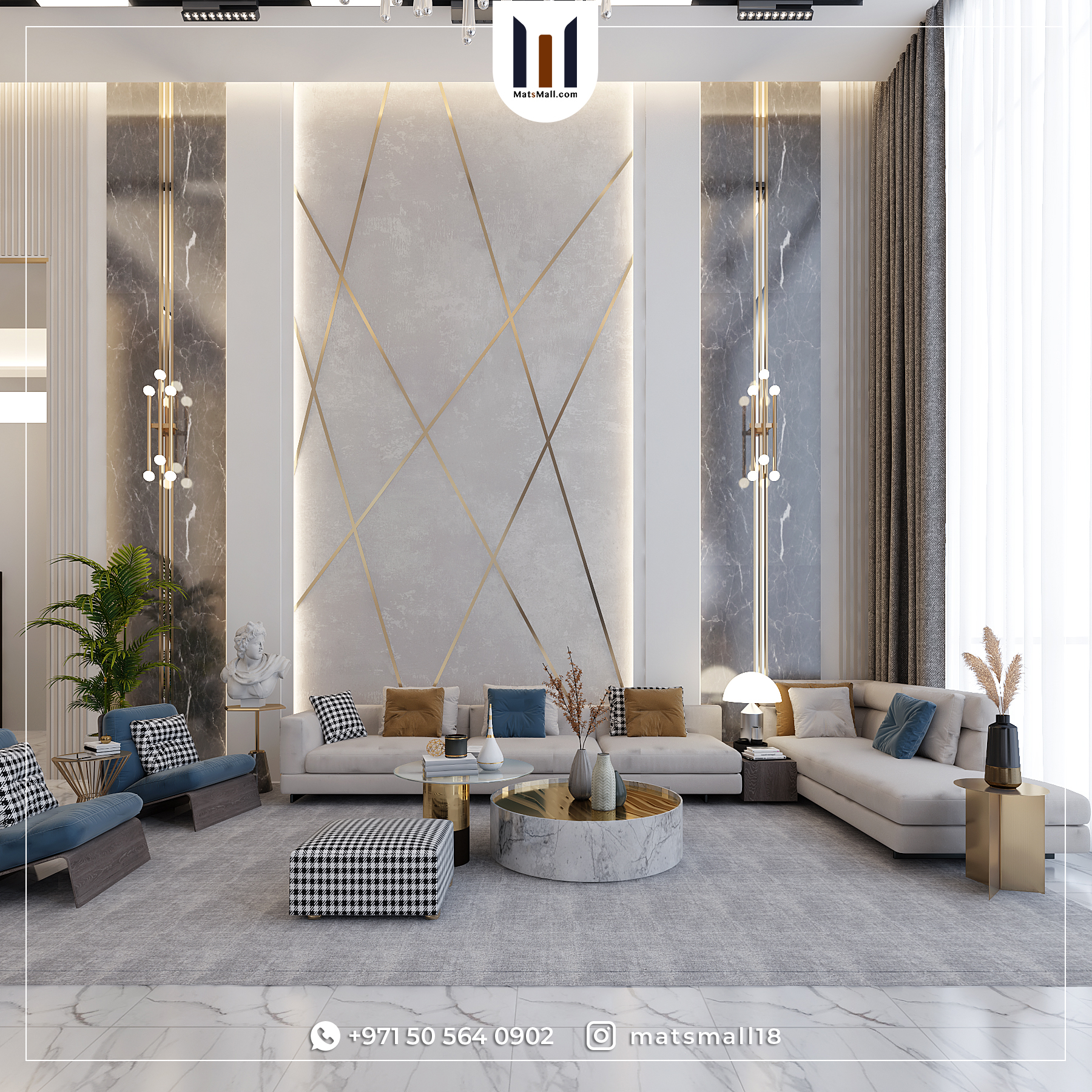 When we asked our interior designers about the most important tips and tricks when you have to consider whn you are designing the simple majlis arabic design they told us that:
First consider the size of your home:
If you have a small home, our advice will be don't design a huge majlis that takes up too much space to avoid clutter feeling. Instead of that choose the right furniture size.
The number of people
Thinking about the number of people who will be using the majlis is important because if you have large family it will be totally different if you you are just two or a small family.
You hav e to take into consideration the number of your guests because you may need a larger majlis.
The furniture type:
Consider the furniture type will be a greate shortcut. Because if you want a large sofa you will need a large space!
Don't add to much furniture or large one in a small space:
It is very important to leave some space for movement. Even if you have a large furniture, it is important to leave some space for people to move around because it will make you feel more inviting and comfortable.
Exploit your space wisely:
Use your majlis space wisely, because if you have a small space you can use the available space wisely by purchasing a furniture that can double as storage or by adding built in storage to save more space.
These two tips will help you to maxmize the space and create an illusion feeling to make it more spacious.
At MatsMall we will help you because we have the best interior and exterior designers and engineers in Dubai. At MatsMall we provide different services to create the best simple arabic majlis design you will absolutely like it such as interior, exterior design, landscape, facades and also deining unique furniture, for more details and to get our free consultation kindly send a message to 971505640902.