Spotlight interior design is a creative and strategic approach that harnesses the potential of lighting to enhance the overall aesthetics and functionality of your living spaces. By using carefully positioned lights, this technique allows you to draw attention to specific areas, accentuate architectural features, and create captivating visual effects that elevate the ambiance of any room.
Ways to enhance spotlight in the living room
Spotlight Interior Design is a term often used to describe a specific focus or emphasis on the interior design elements of a space. It refers to highlighting and emphasizing certain aspects of a room or area to create a visually appealing and aesthetically pleasing environment.
In this article, we will learn how to coordinate the lighting in the house in an elegant and luxurious way.
Creating a focal point:
Spotlights interior design can be a focal point in your living room, they usually use ceiling spotlights for the living room, or they can use it to highlight a piece of art in your wall, or highlighting fireplace, or a window or anything you want to highlight. This will help to catch anyone's attention to the area and make it more interesting and visually appealing.
They usually use modern spotlights for living rooms for people who want modern designs.
There are other types of spotlights called decorative spotlights outdoors. These kind of spotlights add a distinctive and unique touch.
Some people like floor spotlights indoor, because these kind of spotlights are very unique; they usually use them in luxury places.
Task lighting:
Spotlights can also be used to provide task lighting in an office room or your bedroom or your kitchen, such as reading, working, or cooking.
This can help you to improve the functionality of the space and make it more comfortable to use.
Set the mood
Lighting has a very strong power and can have a big impact on the mood of a room, so the spotlights can be used to create a different mood, such as a warm mood or a dramatic or sophisticated one.
It also Add depth and dimension to anything:
After knowing that spotlight can set a different moods spotlight also add a dimension to anything it can also be used to add depth to your room.
Small indoor spotlights create an amazing ,unique and Natural Lighting Interior Design.
Complicated right?
Actually at matsmall we have professional interior designers in spotlighting to help you set a special mood or to create a focal point or even to add dimension and depth to any room.
Our interior designers can help you to choose the right spotlights for your living space and to install them correctly.
What design styles does Spotlight Interior Design specialize in?
Spotlight Interior Design specializes in a variety of design styles, such as:
Contemporary interior design
Modern interior design
Traditional interior design
Eclectic interior design
Minimalist interior design
Industrial interior design
Spotlight interior designers can help you to choose the right design style for your home and to create a space that is both stylish and functional.
Spotlights interior design can also create a space that reflects your own unique personality, taste and style. Our interior designers will work with you to understand your personality, needs and preferences, to create a space that is both magnificent and comfortable.
Can Spotlight Interior Design create a design concept for entire home?
Spotlight Interior Design can create a cohesive design concept for your entire home, our interior designers will help you to design your home like you want and they will take in their consideration your space is both stylish and functional.
The point here is having a seamless design so our interior designers will help you choose the right items in your room, like using the same palette colors when you are choosing your furniture, decoration items, and walls.
Choosing colors is very important if you are planning to have a spotlight is very important according to choosing some colors can ruin your room interior design, they also have to make sure that everything flows together seamlessly.
Another important thing is the functionality of everything.
But how can you design a cohesive design?
Choose your beloved color palette
Use the same material to have seamless design.
Be selective when you are choosing your room furniture according to your room space to have enough space in your room.
Choose things that looks like your personality to feel comfortable.
Planning will always make everything easy and same like exactly want.
Does Matsmall offer custom furniture and decor solutions?
Yes, we offer custom furniture and décor to help you to have unique pieces and décor just for you according to your needs and preference and we also can add spotlight to any space or décor piece.
We also choose materials very carefully to get the right finish, we also care about having the perfect lighting to add another dimension of beauty.
We also make sure that the custom furniture or your décor items match your style.
How long does the design process with Spotlight Interior Design typically take?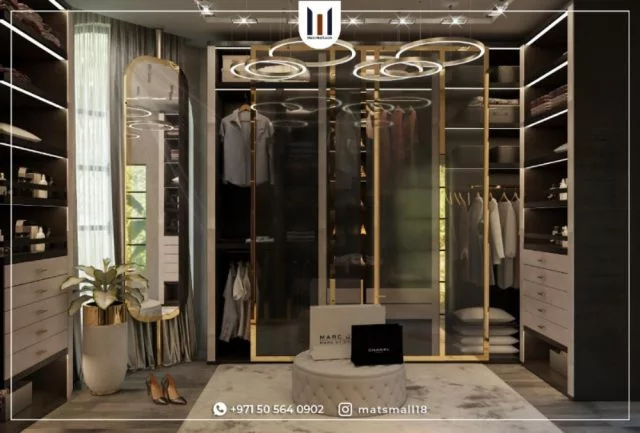 We can't be sure about the exact time to have the perfect spotlight interior design, because it's very different according to your project size and complexity or your needs and preference, we are also committed to providing you with a timely and efficient design process.
But there are many phases like:
Consultation:
Our interior designers will help you to design what you want exactly, they will discuss all the details to know everything in detail.
The design:
In this phase our designers will come up with the new designs to create your design concept and everything like colors and materials.
The approval phase:
We will send you the design before execution to be sure about all the details.
What are the most common spotlight types?
There are different types of spotlights for home or theaters or your work space. In the following paragraphs we will tell 4 types of spotlights.
Recessed spotlights are installed in the ceiling and are flush with the surface; it's called ceiling spotlight design. If you are searching for a good option for general lighting it will be perfect.
Track spotlights it's another type of spotlight, this type is mounted on a track that can be moved around the ceiling "ceiling spotlights", it will be perfect for creating a task lightning option in your room to have light in a specific area.
Wall-mounted spotlights, this type is mounted on walls and it also can be directed to illuminate specific areas, they usually use this kind of spotlighting to highlight artwork.
Ellipsoidal spotlights often use it in theaters because they have a round beam of light which can be adjusted to have different effects, there are other types of spotlights theatre called pinspot spotlights.
At MatsMall we will help you by providing different services to design the best interior design style you like most with our professional engineers and our interior designers. Send a message to 971505640902.