The women majlis are characterized by simple and calm colors and decorations. In addition, the gulf area is characterized by amazing female and men majlis to prevent mingling and to ensure privacy and comfort. women are interested in designing the majlis with an elegant touch and unique decoration items, even if the rest of your house is not as luxurious as your majlis design.
Women majlis should be more friendly and have a cheerful atmosphere that matches the nature of women who tend to have fun in gatherings. So, dear, we will show you some of our majlis designs designed by MatsMall experts to brainstorm to get ideas as MatsMall is one of the best of the best interior design company in UAE. 
In this article, we will show you the best colors and decorations for designing classy female majlis.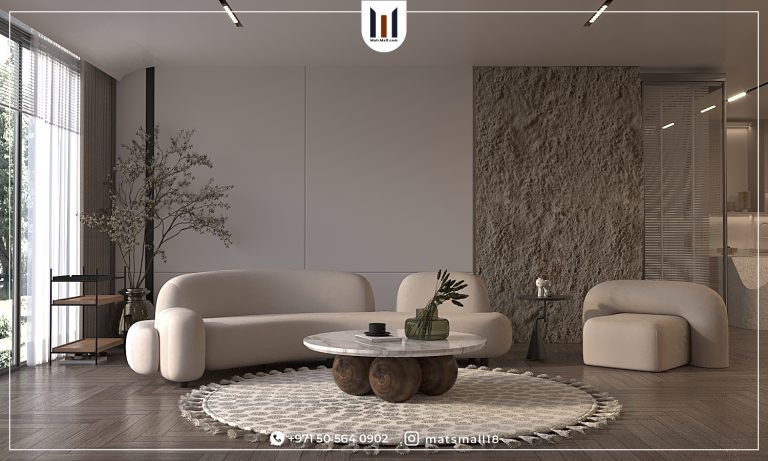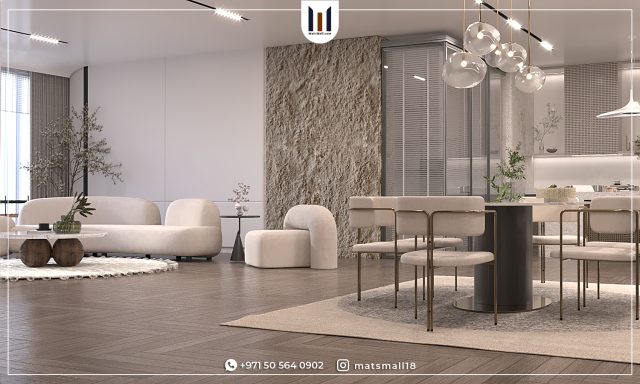 How to choose an elegant women majlis decor
To design a women majlis, you must be aware of the things that women are interested in, and you must choose the best decorations that match their style, such as choosing calm colors or adding plants in the room to add a beautiful feminine touch.
color choice 
When you are designing a women majlis you should choose soft, and very calm colors, like white, and mix them with light milky or green to make you feel feminine in the room. You can play with the rug's color and curtains in addition to adding neutral colors to soften the space.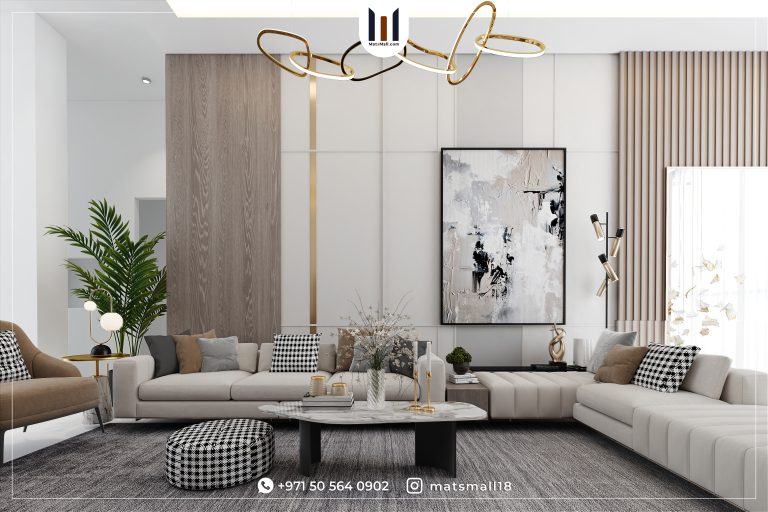 Decoration 
Womens decor feature elements with curved sides or rounded edges in addition to a coffee table with rounded legs have a very feminine effect, use curvy lines wisely to achieve the degree of femininity you want in women majlis.
Furniture Measurements 
Furniture plays an important role in room design. Large and compact items appear masculine, while slender and delicate items appear more feminine. So, replace the large square-armed chairs with simple narrow chairs. You can replace heavy and solid curtains with sheer, flowing pieces of white. Remember that little details make a big difference. 
Choosing the decorations 
Put a blanket on one arm of the sofa just to soften the room a bit.

Use candles and candlesticks on the shelves.

Try to choose neutral colors such as white or pastel colors.

Use the subtle asymmetry method as the women's rooms have a subtle décor.
Fabric
He moved away from choosing leather and wool fabrics in the design of women's councils and adopted soft fabrics such as feathers, cotton, silk, and cashmere. 
Gypsum decoration in women majlis
If you want gypsum decor, you should choose modern gypsum decor in the women majlis, avoid classic gypsum, and be careful about distributing the lightning on the ceiling. You can design a gypsum ceiling with lighting coming out of it and luxurious chandeliers to get a modern and elegant decor, or you can design the gypsum in a new and soft way by choosing a golden design with small and modern lamps for lighting.
If you want to choose the best, contact MatsMall interior designers, one of the best decoration and interior design companies in Dubai to choose the best designs for soft women majlis.
women majlis decorations photos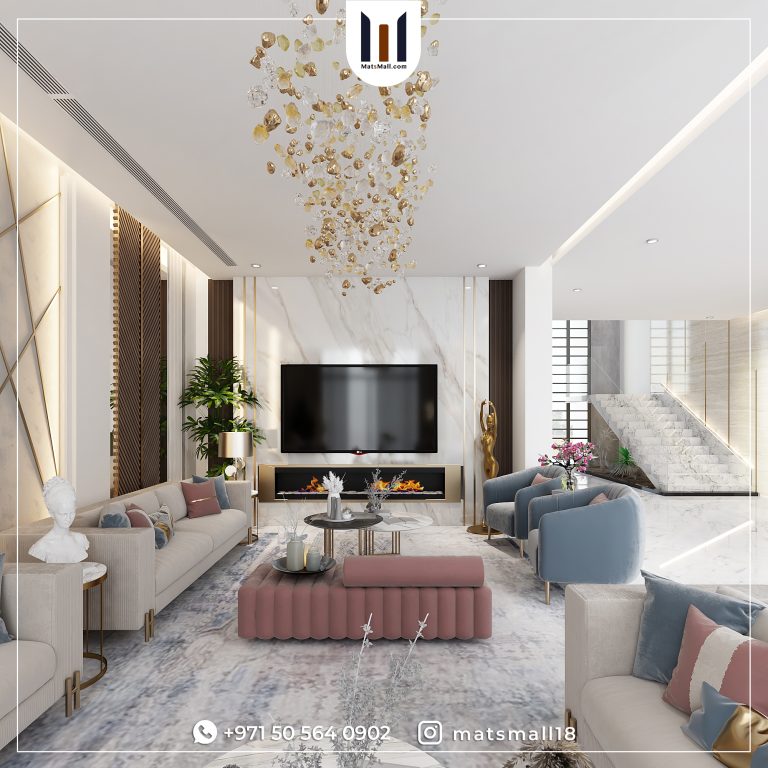 Make a harmony between furniture and women majlis color
Women character is characterized by focusing on the smallest details, so before designing you have to make a 3D design before implementation, MatsMall offers you a 3D design to give you a choice to imagine how the room will be to edit or to change anything you would like to change. 
Choosing colors is an art and you must take into consideration the client's style. Some women prefer calm, natural colors and others prefer bold colors. Therefore, before choosing furniture, select the basic colors of the board that the woman prefers.
New trending colors for women majlis
There are many colors that attract women in the world of interior design, so we advise you to present the color palette to the homeowner before designing. 
Here are the newest colors for women majlis
Aqua 

Pink 

Light Purple 

Turquoise 

Beige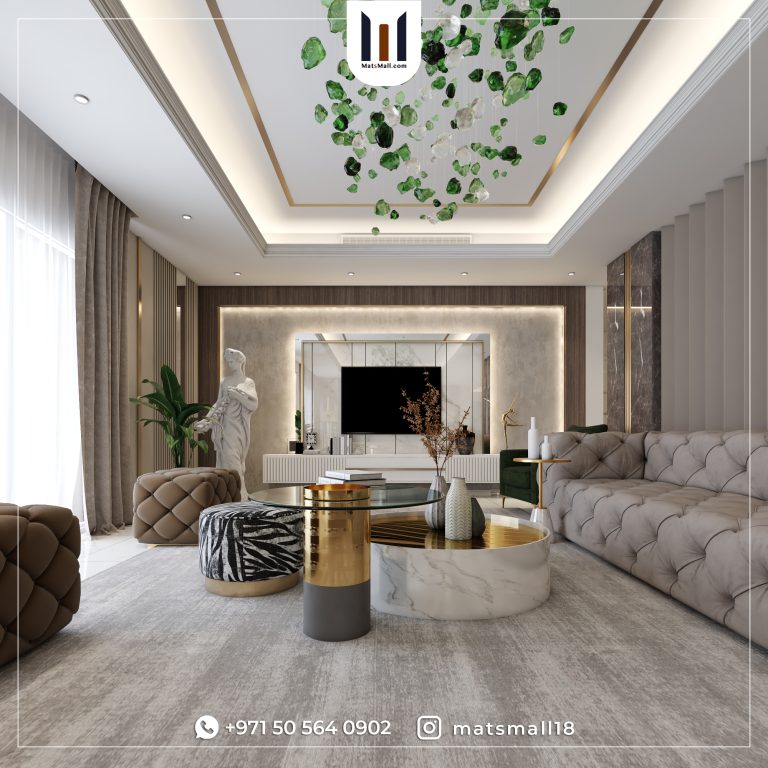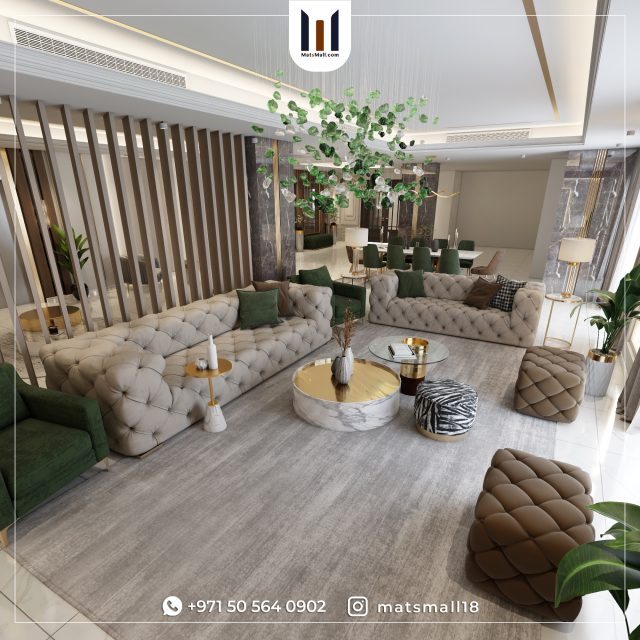 Do you want to redesign your room? 
You can contact us through WhatsApp from anywhere around the world, and they will help you. 
or
Check these topics to answer all of your questions about interior designing and decoration for both residential projects or commercial: