Maximizing storage is one of the most important features of kitchen interior design. There are several ways to accomplish this. In this article, we will discuss storage ideas and new kitchen design ideas that you will just admire.
How to keep the kitchen clean and tidy without getting on your nerves, considering that everyone in the home uses it at least twice a day. Identifying your primary appliances and how to organize them to make daily cleaning fun and simple is the key to any kitchen design.
How to design your kitchen?
MatsMalls' designers will work closely with you on your kitchen interior design project. This is because the design decisions you make for your kitchen will be significantly influenced by how you utilize it. 
1- Start your kitchen design by making a very detailed wishlist, start by creating a mind map and writing down each detail of your ideal kitchen.
2- Set your budget, setting a clear budget can help you to stay focused on the primary items you will purchase
3- Consider your kitchen layout, take a second, and focus on how you will use the space. Where you will cook and where you will install your sink for example.
4- Measure the kitchen, make sure to precisely measure the space, and take notes so you can know exactly how will you organize it.
5- Consider your perfect kitchen layout, making the most of the available space and designing an ideal kitchen layout might increase how much you like spending time in the kitchen.
6- Select the Right Cabinetry, collect pictures of kitchens that inspire you, then begin to refine your concepts while considering how they might fit your area.
7- Kitchen colors, colors play a huge role in any room design as they can liven up the space, there are multiple kitchen colors and designs available nowadays.
8- Think smart storage, to organize your kitchen you must choose storage units that fit in with your whole kitchen interior design.
9- Lighting is a must, The success of a design can be greatly influenced by the use of good lighting.
10- Don't forget to decorate, as a final step consider adding some personalized decoration items to decorate your kitchen.
Tips to decorate your small kitchen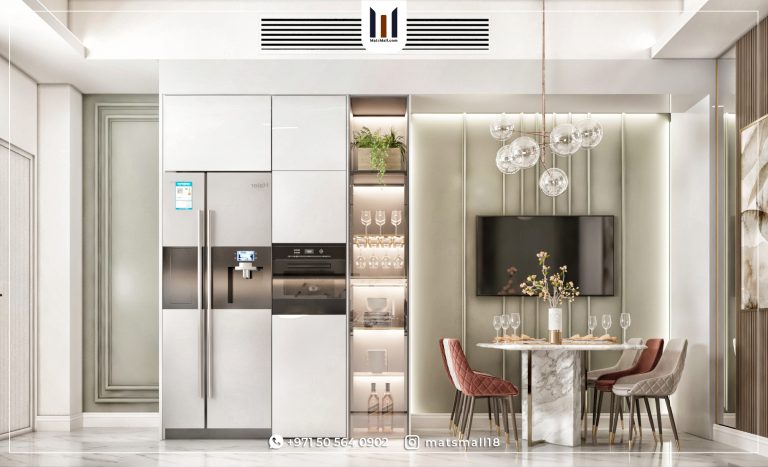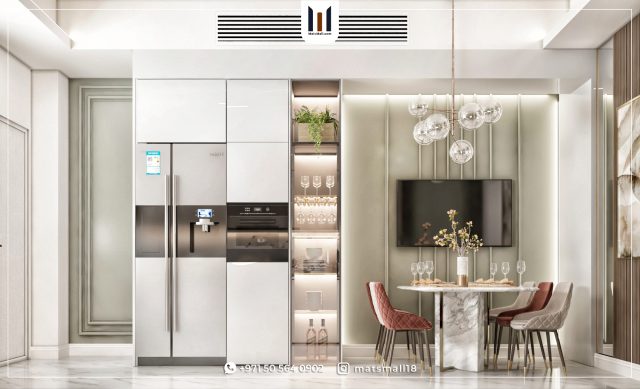 When designing a small kitchen, storage space must be maximized. Making use of vertical space is one effective strategy for doing this. Creating more storage by moving upwards rather than outwards can free up important floor space.
Wall-mounted shelves can be set up, and goods used infrequently can be positioned higher up. The area can also appear taller by utilizing the upper part of the wall for open shelving and storage. Small kitchens can be made more useful and tidy by implementing these vertical storage options.
Utilizing furniture with many uses is another technique to increase storage space in a small kitchen. A kitchen island, for example, can function as a prep space, dining table, and storage space all in one.
Lighter colors and shiny surfaces are two practical ways to do this. Lighter hues can give the impression that a room is bigger and more open kitchen, such as cream, soft green-greys, and warm whites. Additionally, reflective materials that reflect light, such as glass tiles or stainless steel appliances, can help a space feel brighter and bigger.
Another key element in making a small kitchen appear larger is lighting. Multiple lighting sources, such as ceiling chandeliers and under-cabinet lights, can make a room appear brighter and more spacious. Selecting a focal point light, such as a pendant over a breakfast bar, can help drive the eye upward and give the impression that the room is taller.
Choosing the right accessories and decor for a small kitchen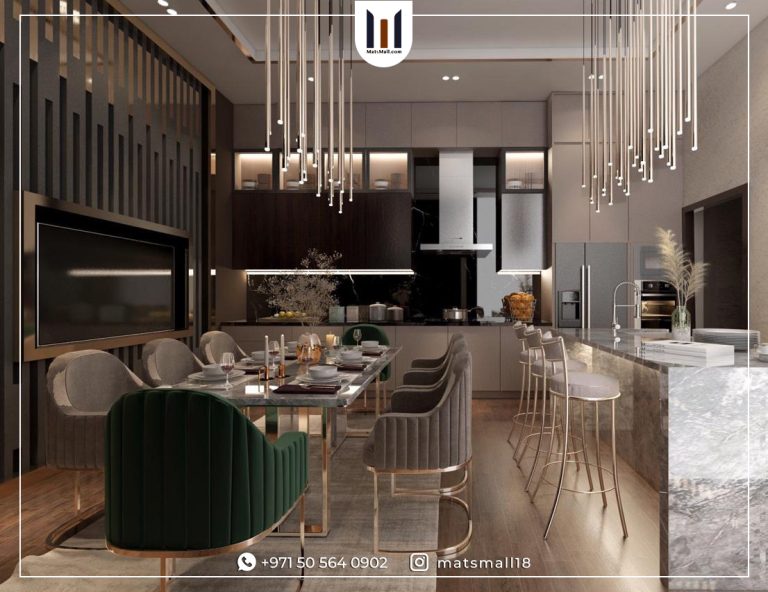 Including plants in a small kitchen is a great way to give it life and color. Houseplants not only purify the air and give the room a touch of nature. Utilize hanging or wall-mounted plants to maximize the small amount of kitchen counter space you have. When using plants to decorate, pick statement plants like rubber plants or fiddle leaf figs and put them in attractive pots. A quick and inexpensive method to bring color and a cozy environment to a tiny kitchen is to add plants.
Accessorize open storage with textured baskets, bins, and attractive glass storage containers for added style. Textiles like dish towels, tablecloths, and curtains can also be used to add personal touches. Add a warm touch to the space by incorporating hues and patterns that express your taste. A small kitchen may reflect your personality and taste by adding unique elements like artwork and linens.
Best kitchen colors you will love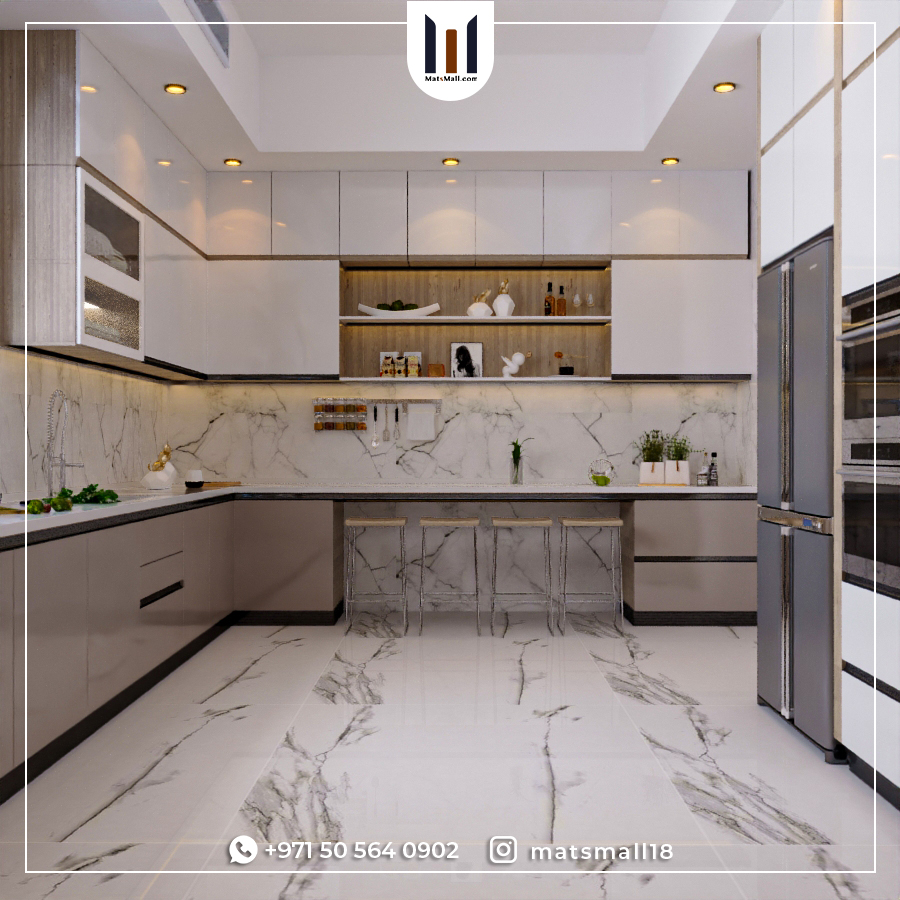 Colors can liven up your kitchen and give it a personalized look, choose colors wisely. If you hesitated on what color you should paint your kitchen, check the list below for reference:
White

Black

Grey

Green

Blue

Cream

Red

Pink

Yellow

Brown
Kitchen interior design types and layouts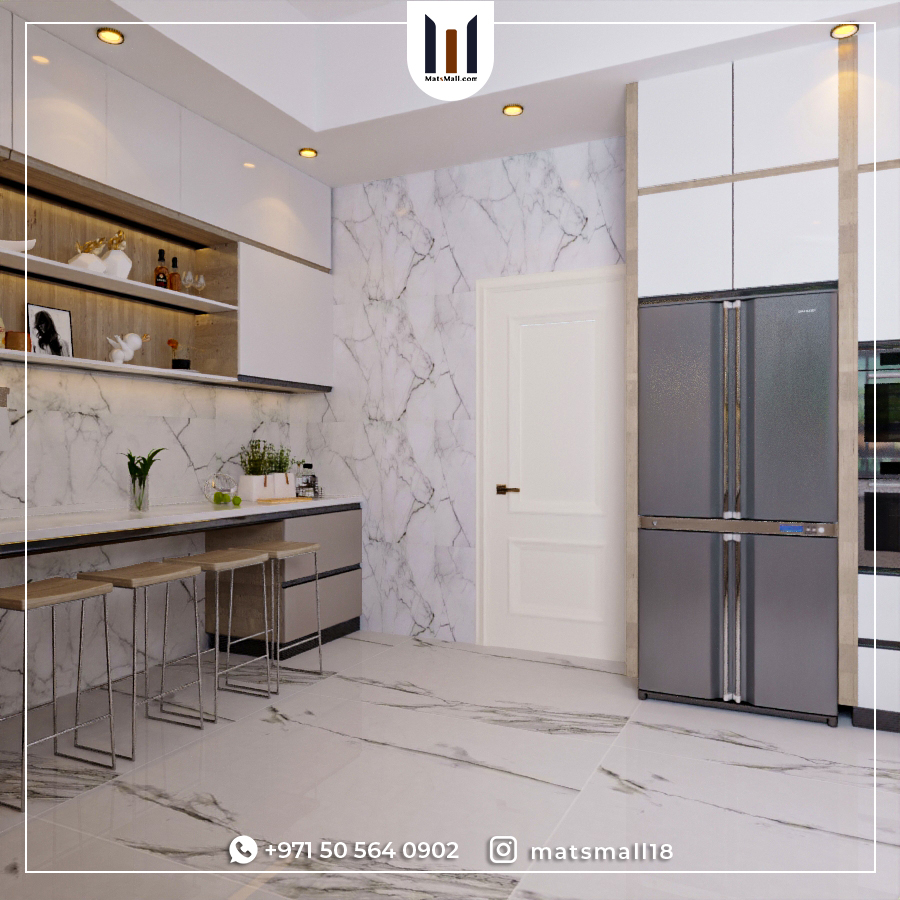 5 main kitchen layouts are commonly used in kitchen interior design, you can select your desired kitchen layout upon your kitchen space and measurements.
L shape kitchen 

U shape kitchen 

G shape kitchen 

One wall kitchen 

Gallery Kitchen 
What is the ideal layout for a kitchen?
The U-shaped kitchen plan is one of the most adjustable designs. This divides the space into three parts that the homeowner can use, offering plenty of countertop and cupboard space for cooking and storing dry items. An L-shaped kitchen with an island is another excellent design since it provides several work surfaces while facilitating easy traffic flow through the kitchen. 
You can consult MatsMalls' designers to figure out what kitchen layout fits in your house the most, get a free consultation now on how to design your kitchen interior design.
Contact us for more ideas and inspiration for kitchens, send us a WhatsApp message at +971505640902
Frequently Asked Questions about Kitchen interior design