Classic home interior decoration represents elegance, it is perfect for those who want a home that is both stylish, elegant and comfortable. It is characterized by its use of neutral colors, traditional furniture, and classic decorative elements.
Classic home decor Dubai furniture:
When you are choosing your furniture for your classic home interior decoration choose the traditional one like upholstered sofas and chairs, choose also tables that are made of wood and countertops made of marble or granite.
Choosing decorative items in classic interior design can be very easy and complicated at the same time!
Because if you have many vantage and elegant items it will be very simple but if you don't have you have to purchase when you are choosing there are some guidelines you have to follow to get an amazing classic home interior design like 
Chandeliers have to be very large.

Focus on gold items.

Choose vintage vases to add a unique sophisticated touch to your home interior design. 

Classic antique mirrors.
What is new classic interior design? Or What is modern classic interior style?
If you are searching for a style that combines luxury in classic home interior decoration and functionality the modern will be your best choice, because it combines traditional elements with modern touches.
This style can be characterized by timeless furniture pieces, neutral colors, and materials, however, this style also can be characterized by modern elements, such as clean lines, geometric shapes, and minimalist décor.
This style started when a designer wanted to create a that was both timeless and contemporary classic interior design. 
The main goal was to create a style that combines between the beauty of traditional design and the functionality of the space!
So it's for people that appreciate the beauty of traditional design, but who also wanted a space that felt fresh and updated.
The beauty of modern classic home design is it can be adapted to any space, it can be used to create a formal space room or a cozy bedroom, or a kitchen.
How can I decorate my home like an interior designer?
Here are some of the most essential tips to help you to decorate your home.
Timeless furniture pieces.

Neutral colors

Modern touches

Neutral colors
Timeless furniture is one of the most elements that characterize the new classic interior design, so when you are designing your home from scratch make sure that you make the furniture from high-quality materials, because your furniture is designed to last for years to come, and the only thing that you can do is to update it with new accessories, cushions, rugs or textiles.
The second thing is using neutral colors when you are designing your space interior design like white, black, gray, and beige.
These colors can create a calming and elegant atmosphere in your room.
New classic interior design has an elegant and modern touch as we mentioned before clean lines, geometric shapes, and minimalist decor all of them are the most popular things that characterize the modern style.
Use natural material like marble, stone and wood also add a touch of warmth and sophistication to your space.
You can use these materials for your walls as a decoration or for your floor or for any decorative items on your tables and shelves.
When we asked MatsMall designers for their advice and the most important tips to get the best interior designs:
The best and most important tip when you are designing your interiors is to keep everything simple as as you can to make a simple and elegant design.
Avoid clutter because it makes your space feel busy and i may cause an uncomfortable feeling
Symmetry is another important key element of classic interior design, symmetry creates balance and harmony in your space.
Pay attention to everything around you like your furniture, decor items, cushions and accessories, you have to be very careful also when you are choosing your furniture size to avoid clutter as we mentioned before but avoid choosing small furniture also when you have already enough space to avoid feeling empty.
Stick to your home style because it's a very important thing when you are designing your home like choosing everything with the same style.
How do I get interior ideas?
It's a common question for anyone who wants to get an elegant design, actually asking professional designers like matsmall designers to help you to design creative ideas to design the best interiors, or you can start browsing matsmall interior designing website to get inspiration from the designs, or you can also visit furniture stores or furniture exhibition.
How can I make my house look luxurious?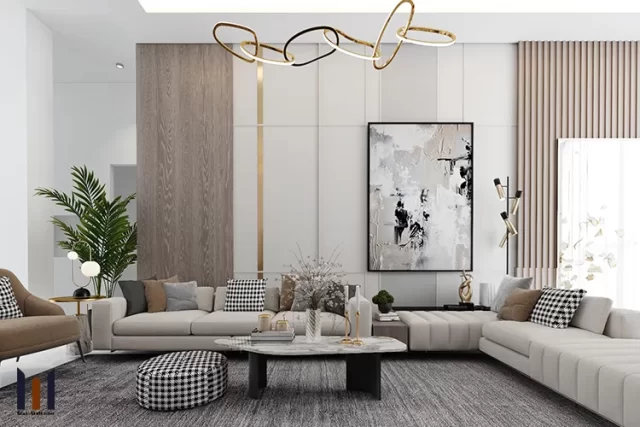 If you want your home to look luxury, you have to choose high-quality materials because it will affect how your home will look.
As we mentioned before avoid clutter

Choose your furniture with character

Install luxury statement lighting

Add flowers and plants for more luxury

Hang art piece on your wall

Choose a wood floor instead of a carpet

Keep wires out of view

Add rugs and cushions
Ultimately, we can't tell you the best choice for you, because it depends on your personal preferences and style. If you are looking for a sophisticated and elegant style so you have to go for classic interior decoration it will be a good choice. But if you want the elegance of the classic design and the functionality of the modern so go for the new classic style because it will be the perfect option.
At MatsMall we will help you by providing different services to design the best interior design style you like most with our professional engineers and our interior designers. Send a message to 971505640902.