Here are some factors to consider when designing a pool:
Having a swimming pool design in your backyard is very important to you and your family but why?
Swimming is very important to your health and it will help you to relaxt after a long day, because swimming is a fun recreational activity that can be enjoyed by people of all ages in addition to it's a great way to cool off you body after a long day especially on a hot day, and it can also be a lot of fun for parties and gatherings.
Swimming is also great for relaxation because the water gentle movement of the water can help you to relieve the stress.
So if you are want to get a swimming pool design for sure you asked yourself this question.
What factors should I consider when designing a pool?
First
you need to make sure that you have enough space for a pool.
Second
you need to decide what type of pool you want because there are many types of pools: concrete, fiberglass, and vinyl-lined.
Finally, you need keep in mind the cost of maintenance because swimming pools require regular maintenance to keep them clean and safe.
In this article we will discuss all the factors in more details to help you to decide how can you have a perfect pool landscaping.
Here are some of the most important ones:
The size of your yard: as we mentiend before the size of your pool will depend on the size of your yard and if you have a small yard, you will need to choose a smaller pool and for sure if you have a large yard, you may be able to choose a larger pool.
Your yard size will plays an important role in the process of choosing your swimming pool design.
Your swimming pool design, how you want your pool looks like?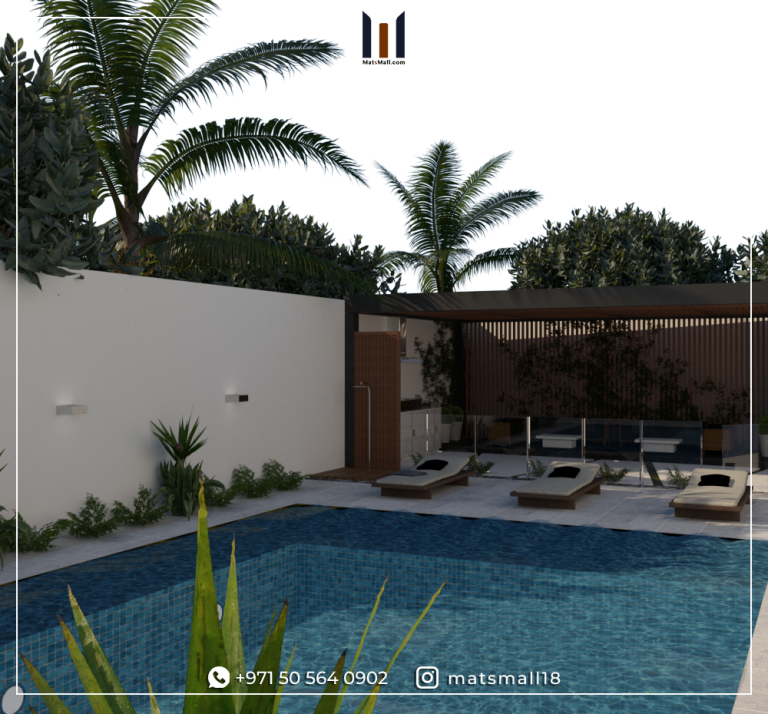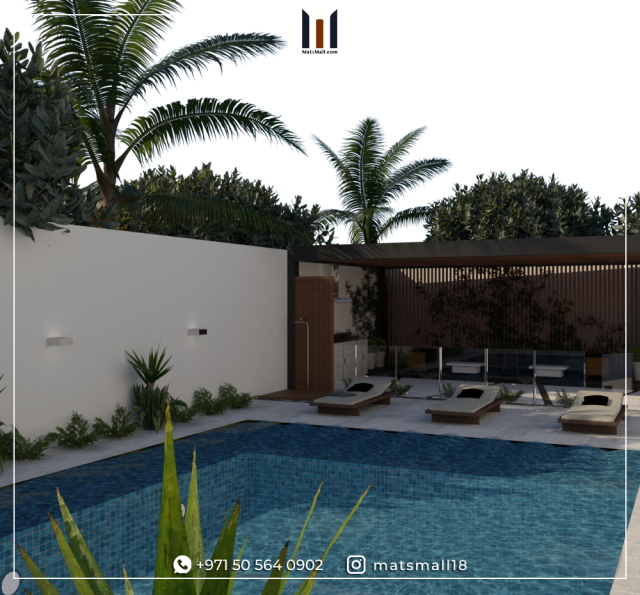 As eng Israa said before designs always reflect who you are! So it's important to choose a design that reflect your personality and think about what you want to use your pool for and what kind of atmosphere you want to create.
Your Pool's location:
The location of your pool is important because you have to consider the views from the pool.
Read More: Best ideas to decorate your exterior Home outdoor garden 3d design
What are the types of swimming pool and which one is the best?
Or we can say What materials are commonly used in pool construction?
There three types of swimming pool:
Concrete swimming pools
Fiberglass swimming pools
Vinyl-lined swimming pools
Read More:Home garden design in the UAE
But which one the best?
To answer this question it will be hard because each of them has its own advantages and disadvantages.
Concrete swimming pools:
Concrete pools are the most durable, but they are also the most expensive if we compared it to the other ones.
Fiberglass swimming pools:
Fiberglass pools are less expensive than concrete pools, but they are not as durable.
Vinyl-lined swimming pools:
Vinyl-lined pools are the least expensive type of pool, but they are also the least durable.
So to decide which one the best for you it will be according to your budget the following paragraph will talk about it more in details.
The exactly cost will be depending on the the following factors:
The pool size
Your pool type
The features of the pool
Your pool features that can help you to make a pool renovation or to design it from scratch:
There are many different features that you can add to your pool the more features to have a luxury pool design, such as:
Waterfalls (Falling water) or water walls can add a breathtaking element.
Having one or more fountains inset into your pool or detached can create a sophisticated, or it can also add classic charm depending on the design.
Tanning ledge it's perfect and it also add a sophisticated look to your pool design and it's also a perfect option for sun worshippers.
Bonus: is also grate because they make a soothing sound for poolside relaxation.
Let your guests enjoy the luxury by adding a fire pit. It's perfect because it let your guests warm up between evening dips for the ultimate in luxury.
Lights can change everything and it can also make it more luxury and sophisticated.
What are the latest trends in pool design?
Natural pools are designed to blend in with the surrounding environment. This type of pool is becoming increasingly popular due to its eco-friendly which will have a bad impact on our environment, and its low-maintenance qualities.
Infinity pools these kinds of pools give you a sense of luxury because they are designed to give the illusion that the pool extends to the horizon. They are often built on cliffs or hillsides.
Zero-entry pools these kind of pools make it easy to get in and out of the pool because it has a shallow entry. They are a good option if you have young children and it's also very popular due to it's safety.
Smart pool systems are becoming increasingly popular because they allow you to control everything from you phones!
You can monitor th water quallity the temperature or to turn on or off your pools lights and you can also cover up your pools.
How long does it take to complete a pool design?
It depend on many factors your pool size and features.
Can I customize the shape and size of my pool?
Custom pool design we can help you to custimize you pool design according to your needs and features to get the perfect swimming pool design.
What permits and regulations are needed for pool design?
The permits and regulations needed to design a pool vary depending on many factors like:
The location of the pool
The local building codes
Pool drainage
Pool lighting
What safety features should I incorporate in my pool design?
Pool fence:
it's one of the most important safety features when you are designing a pool. The fence should be at least 4 feet high and have self-closing and it's also should also be made of a material that is difficult to climb, such as wrought iron or chain link.
Pool cover:
A pool cover is a great features because it's protect everyone especially if you have children.
First aid kit:
it's very important so you have to be kept in the pool area in case of an emergency.
MatsMall can help you to design the perfect pool that is perfect for you landscape space, your needs and also for your budget with very high quality because we have professional ecteior engineers iinterior designers send a message at 971505640902