If you are fortunate enough to have an outdoor garden balcony, you have access to a gorgeous additional room that you can design in any size or style. The professionals at MatsMall are more than happy to provide the top ideas for planning and embellishing your outdoor garden balcony.
The balcony outside can serve as a living room if you so choose; just be sure you want to be there. Include a coffee table, some plush sofas or armchairs, and some candles for the necessary lighting.
ِِِARRANGEMENTS FOR OUTDOOR SEATING AND DÉCOR
The balcony outside can serve as your living room; just make sure you really want to be there.
Include some comfortable chairs or a sofa, a coffee table, and some basic lighting from candles. As it is outdoors, you should pick furniture and furnishings that can withstand the weather.

A GUIDE TO DESIGNING AND DECORATING AN OUTDOOR GARDEN
A balcony is a fantastic outdoor space for relaxation, fresh air, entertaining guests, or just spending time with your family.
There are many things you can do to improve the atmosphere, so let's start with some advice from designers on how to design your balcony:
Pick the appropriate materials for your balcony's design. You want something flexible and strong that won't need constant upkeep.
When designing your balcony, take into account the available space.
The floor shouldn't be overloaded with furniture or plants, but it also shouldn't feel boring or unfinished. Consider the mood that you want.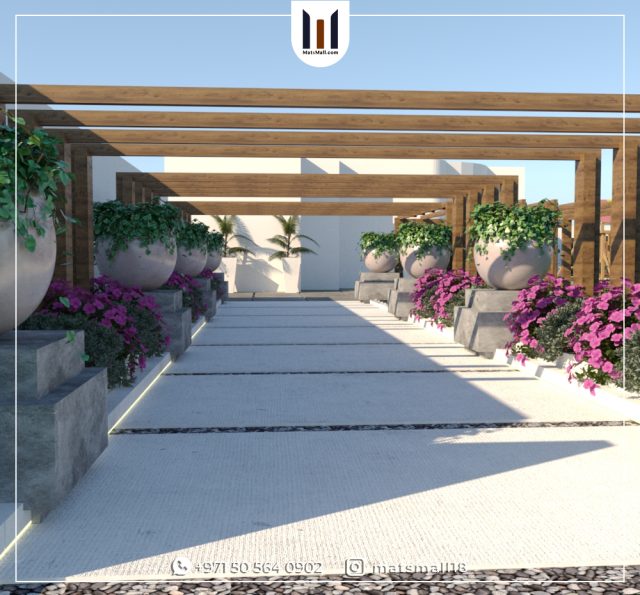 CHOOSING THE RIGHT FURNITURE
Manufacturers of outdoor furniture use a variety of hardy materials, the majority of which can be divided into two categories: those meant to be weatherproof and maintain their original appearance for a long time, and those meant to weather. Good material choices for outdoor furniture, if you want it to continue to look brand-new for many years, are as follows:
Coated steel
Aluminum
Metallic stainless
UV-resisting plastic

FLOOR SELECTION
The best outdoor balcony flooring, in the opinion of MatsMall experts, should be sturdy and water-resistant.
The ideal answers are:
concrete
tiles
the wood
WPC (wood plastic composite) natural stone

CHOOSING THE RIGHT LIGHTING
As lighting is a vital component of exterior and garden design, it plays a significant role in embellishing and highlighting the balcony's beauty. There are numerous options that you can quickly put into practice to get a stunning balcony at night.
Outdoor balcony lighting:
Small LED hanging bulbs
Candles
wall lamps
portable lamps
long lamp shades

INSTALL A SWING
You know, hammock chairs aren't just for porches. If your balcony has enough room, hang a hammock there so you can unwind and take in the scenery from a higher vantage point. For comfort, simply add some pillows.
ADD FOLDING CHAIRS AND TABLES
Folding chairs are the best option if you want to save space on your balcony. You can choose strong plastic or solid wood and decorate it with some soft-colored cushions.
TIPS BEFORE YOU START DECORATING YOUR GARDEN BALCONY
Expert advice from MatsMall for practical and easy balcony decorating ideas:
Make a design plan for the balcony first.
Utilize the horizontal space to create a garden of fake trees.
Purchase the appropriate furniture for the balcony area.
Use a heating rug to cover the floors.
Put the right lighting on the balcony to decorate it.
Utilize space-saving storage containers.

Are you ready to create your dream garden balcony? Contact the experts of MatsMall on the company's WhatsApp number +971505640902