Children use their bedrooms as places to play, create, learn, and unwind. The youngest family members will be using this room to do everything, so it is only fair that they will need the most creative input when it comes to designing and selecting their furniture. You can assist your children because they frequently make suggestions for the ideal room, whose idol may be a football player or cartoon character.
Here, MatsMall's design pros share some fresh suggestions for decorating bedrooms for boys and girls.
Children's bedroom decoration inspirations
To allow the kids to play on the floor, you can use a double bed or a bunk bed with a ladder lifted off the ground.
Paint their favorite character or a bright painting behind the bed.
To provide room for play in the remaining space of the room, construct a bunk bed with a wooden backboard holding the bed and dresser together in one corner.
As a child gets older and needs more book storage space for their studies, make sure to incorporate bookcases into the design of their room.

kid-friendly bedroom décor ideas
Children's bedrooms require precise and thoughtful decoration selection. Before choosing decorations, you should consider the following:
Does the room have both girls and boys as users?
User's age in the room?
Are they talented?
Do they prefer playing action games over reading and drawing?
What color is their favorite?
What animated series do they prefer?
To get the ideal kids' room decorations, discuss the answers to the previous questions with your kids.
Girl's bedroom décor
Girls typically favor light hues like rose, white, light green, and beige, so their rooms are more delicate and well-organized than those of boys. To best-fit girls' personalities, it is suggested to choose neutral colors and basic décor.
A bed, a sofa for hanging out with her pals, a desk, and a sizable closet for safely storing their clothes and supplies should all be included in a girls' integrated bedroom design.
You can paint a wall with Elsa from the movie, which is the cartoon that most females prefer.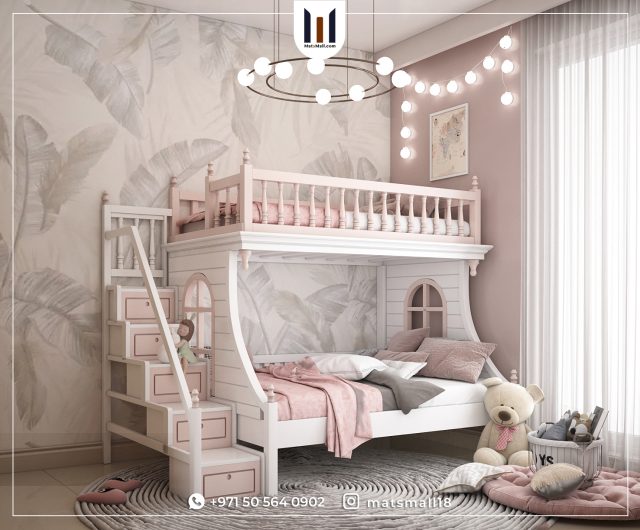 Décor for boys' rooms
Boys' bedrooms typically have stronger colors and different patterns than girls' bedrooms, therefore the shape and content of boys' rooms are considerably different from girls' bedrooms. You can decorate the room to reflect their favorite team in their favorite sport, such as football. For instance, if they favor Argentina, they can go for the stadium's green color or milky blue with white colors.
Alternatively, have an artist depict their preferred athlete on a wall for them
Painting for kid's rooms
Here are some suggestions for children's bedroom paints from a variety of ideas that can be utilized in the kids' room:
spots and lines
Draw diagonal lines to divide the wall, and then add design to this area of the walls by using wall decals.
To simulate the night sky, paint one wall a dark blue or black color and decorate it with star wall decals. This results in a meditative ending that is excellent for slumber.
Picture of the outdoors
Let your creativity soar and create a picture of a mountain range, a botanical garden, or even a rainforest with paint!
Colors for kid's rooms
The adult enjoys this work more than the child since it is interesting to choose the color of the room. Did you know that the color of the room has a significant impact on the resident's mental health? So make sure to pick a color that is appropriate for the child's age. The most popular hues are shown below:
White, Pink, Light Mauve, Sky Blue, Ashen, and Green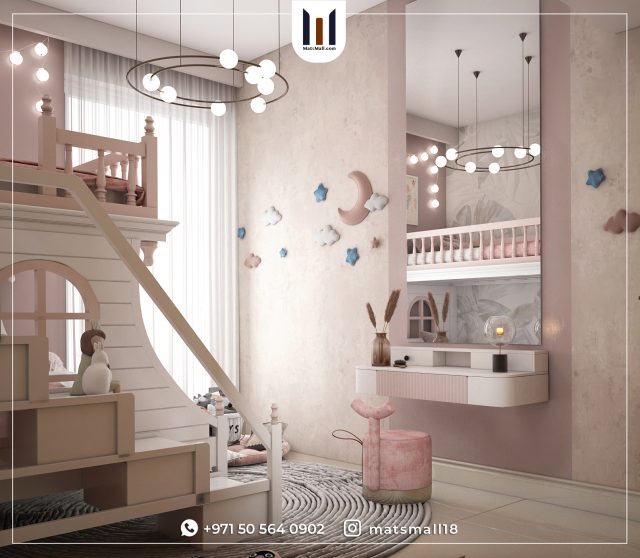 Do you intend to use one of the designs for your kids' room? When you contact us over WhatsApp at +971505640902, you may quickly acquire the ideal design for you.
Frequently asked questions about kid's bedroom
What kind of décor is ideal for kid's rooms?
Because it is distinguished by simplicity and practicality, modern decoration is the best for designing children's rooms. It is the ideal option.